Little Red's interrogation
Share - WeChat China Daily website is inviting foreigner readers to share your China Story! and here are some points that we hope will help contributors:

"You don't look Chinese" said the little boy, with a thoughtful look as he rolled the possibility through his mind. "You don't have the face of a Chinese person."
He was right, I don't. The conversation had started when the boy approached me, carefully, with a hint of hesitation in his body language and asked me - with no other introduction - if I was a foreigner. I had heard the question in some form or another so many times since my arrival in China that I understood the question and gave my rehearsed response.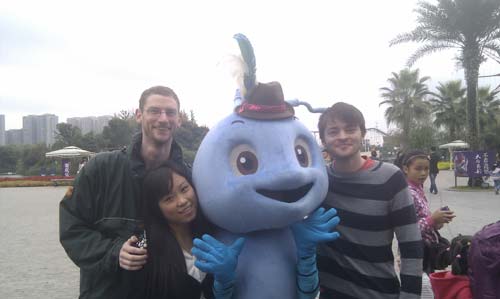 Andrew Symonds (upper left) poses with his friends. [Photo provided to chinadaily.com.cn]
"Wo bu shi weiguoren. Wo shi Chongqingren" I said. I'm not a foreigner, I'm a local.
The little boy's eyebrows shot up. He knew there was something fishy about my story and decided to investigate. His questions took on the form of little red riding hood's ill-fated meeting with the wolf.
"But you have a moustache," He said. "Your eyebrows don't look like Chinese eyebrows". "You have hair on your arms". The statements kept coming. His mother watched with amusement and added her bit, pointing out my face. My story was unravelling fast. I wasn't surprised. I was clearly not Chinese. Yet, this was the first time I had had to face an inquisition over the subject. It was the first time I had ever been involuntarily cast as the wolf in little red's story. But then, this was Chongqing. There were not many foreigners who came to the city. This was not the first time I had been treated differently.
For the last ten months, I have lived and worked in the furnace city. I have been fortunate enough to attend weddings, meetings and all sorts of other traditional Chinese events since I have been here and all of them have followed the common theme; I am a foreigner.
The wedding had been the first such event – I had been invited to attend a wedding of a couple I had never met as a guest of my girlfriend. I was soon asked to be a groomsman and, eventually became the ONLY groomsman. Best man to a guy I didn't know, I travelled out way into the countryside to stand by his side on his special day. I stood on a stage as three hundred locals stared at the first foreigner they had ever seen. I passed champagne at the right times, held the microphone when I was asked, smiled politely for the photos and thanked guests for coming.
Later on, I met a businessman who wanted me to attend meetings for him in order to give his company an air of internationalism. I agreed and spent the next few weeks being used as a professional foreigner, presenting to crowds of people on subjects I knew nothing about, meeting his business partners, tutoring his business partners' children and eating with their wives. Professional networks were being formed, and I was the glue to keep them together.
That's the beauty of China for a foreigner. Whilst this little boy had been determined to single me out as a guy who was different, whilst I can't walk down a street without people photographing me and pointing out what is obvious, there is rarely any negativity associated with the attention. The people in China are incredible, they offer a level of respect that would never be returned if the situation was reversed and they genuinely take delight in the dealings they have with outsiders.
Andrew Symonds is a teacher living and working in Chongqing.

[Please click here to read more My China stories. You are welcome to share your China stories with China Daily website readers. The authors will be paid 200 yuan ($30). Please send your story to mychinastory@chinadaily.com.cn.]