Adoption adventure in China
Share - WeChat China Daily website is inviting foreigner readers to share your China Story! and here are some points that we hope will help contributors:

In the interest of privacy, only initials, not full names are used in this article.
Of all the surreal experiences I've had in China, this one surely topped them all. What was I doing in Taiyuan International Airport, scanning the crowd for my Canadian friend, J? How and why did we both end up in this Shanxi provincial capital, 683 miles northwest of Shanghai, my current home base, and 12 hours and half a world away from Toronto, my friend's hometown?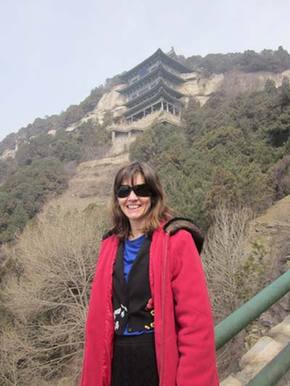 Elizabeth Patel [Photo provided to chinadaily.com.cn]
J's part of this story started four and a half years ago when she and her husband decided they wanted to add to their family. They'd already adopted a Canadian girl, and were looking to give her a sister so she wouldn't be alone when they had…how to put this delicately?...shuffled off their mortal coils. Talk about planning ahead! Having heard about the girls in need of adoption in China, they started the lengthy and pricey process of overseas adoption. They connected with an agency in Canada, who in turn put them in touch with the appropriate people in China.
G's path to adoption started in Taiyuan at the age of nine months. She was abandoned in the winter in a park. We presume her birth mother was unable to afford the surgery to repair G's congenital heart defects. The desperation and despair her birth mother must have felt is unimaginable. Thank God G was found and brought to an orphanage where she received life-saving surgery. After living at the orphanage for a couple of years, G was moved to a foster home with foster parents and a much older foster sister, who all loved her very much and doted on her.
I come into the story July 2011. During my visit back home to Toronto last summer, J recruited me to be her China support person. Her husband had to stay in Canada to mind their first daughter and his business. With my bare bones language skills, I wasn't sure how much help I'd actually be, but my friend was confident that with my experience in country and my strong mother energy, as she put it, we'd be fine. I was honored to be asked to assist in such a personal chapter of someone's life history.
I'll spare you the mind-numbingly boring details of the forms J and P had to fill out, the interviews they had to undergo, the fees they had to pay and the nail-biting anxiety as they waited and waited and waited. My friend and her intended daughter's guardians exchanged photos and letters. J waited some more. After a few teases, she was finally able to email me and triumphantly announce, "We have a date for the adoption!" Excitedly, she made plans to fly from Toronto to Beijing, spend a couple of days there, then go on to Taiyuan. I met up with J there, arriving a mere half-hour after she did on Sunday, March 11.
J's guide met us at the airport and drove us to the hotel. She and I had the day to ourselves to unpack and catch up. I was constantly doing double takes, trying to wrap my head around the fact that she, my friend from Toronto, and I were both in Taiyuan, China. Bizarre!
When the next day came, I felt the full weight of its importance. This was to be the first time that J and G would meet face-to-face. The guide came in the morning to take us the government building. J was the model of composure. I don't know how she did it. We were escorted upstairs to the adoption office. Surprisingly, there were three other Western families meeting their adopted children as well. I think their presence, plus the paperwork, provided distractions for J, while I was busy photographing and videoing the momentous occasion. To be honest, the actual meeting felt a little anti-climactic, but that was probably just as well. I think if we'd been more aware of its history in-the-making nature, the first time together might've been completely overwhelming.
After signing many documents and having official pictures taken, J was able to leave the government building with G in tow. The two of them were meant to spend the next 24 hours together. They needed to start the bonding process and get to know each other. This time also provided a cooling-off period. There had been instances where parents-to-be experienced "buyers' remorse" or the adopted child was not exactly as billed in terms of behavior or health issues. The three of us went back to the hotel. J and G watched G's Pleasant Goat cartoon DVDs and played tea party. Later, we all walked to Pizza Hut for dinner. There were some tears, naturally, but all in all, the day went surprisingly smoothly.
Having weathered the initial 24 hours, we returned March 13 to the government building to make the adoption official. That's when the impact of what J had finally been able to realize hit me. I couldn't help but get choked up as I watched her sign the paperwork that would make G her daughter. As I snapped the photos marking the event, my heart was gripped with the thought that these two people were now forever connected. Leaving the office, J and I thought we would go celebrate at a "fancy" Western-style restaurant. I tell you, we are so spoilt in Shanghai. The rest of the day was spent relaxing at the hotel. Both J and G needed time away from the relentless, but friendly, questions of the locals. Despite the fact that approximately 130 children are adopted each year from Taiyuan, the "mixed couple" was a target of many curious stares in the downtown streets.
We still had a few days while we waited for the finalization of paperwork.
Having had our fill of Pleasant Goat cartoons, we made a day trip to Pingyao, a carless ancient walled city and UNESCO World Heritage site. As we explored the streets, we reveled in the slower pace and calm atmosphere. For those of you who have been to any of Shanghai's nearby water towns, the ambiance is very similar. Instead of canals though, Pingyao has streets.
Our second to last day, March 16, was spent at the incredible Tianlongshan, home of numerous grottoes and the Manshan Pavilion, a building that clings to the mountainside. The Manshan Pavilion alone is worth the climb up and down all the stairs. G was a good sport and gamely made it down to the pavilion, but staged a sit down strike when it came to going down any further to see the old village. If she ever returns to her original hometown, she'll have something to see.
The next morning J and I packed and said our good-byes. We parted ways; I was going to Shanghai, she and G were flying to Beijing, and then returning to Canada once G's Canadian passport had been issued. J and I are already anticipating my summer visit to Toronto. For J, the couple of months' wait is nothing. She'd just finished the longest wait of her life! Four and a half years is a mighty long gestational period, but in the end, worth every single second.

The author is a Canadian who moved to Shanghai in August 2010 to support her husband in his new executive postion. She is the mother of three teens, one of whom is with her in China. When not volunteering with Stepping Stones and the Shanghai Expat Association, Elizabeth likes to explore the dynamic city of Shanghai.

[Please click here to read more My China stories. You are welcome to share your China stories with China Daily website readers. The authors will be paid 200 yuan ($30). Please send your story to mychinastory@chinadaily.com.cn.]