The notebook
Share - WeChat China Daily website is inviting foreigner readers to share your China Story! and here are some points that we hope will help contributors:

It was wintertime in Nanchang city, China. The temperatures were seldom above 5C degrees. The cold wind seemed to go right through my body even though I had five layers of clothing on, and sometimes two pairs of socks.
Nanchang was a very old city about 2000 years old, as it was on a very important waterway, the Gan River, for in old China this was main means of transport for moving goods for trading. Nanchang was a very dull and uninteresting city until recently, rows and rows of pre 1980's seven story apartment blocks, all of the same design and structure, grey plaster over brick, with only stairs for access to each apartment.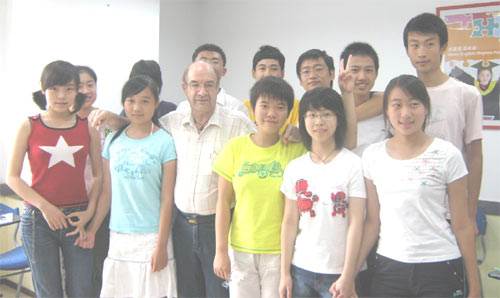 David Burt poses with his students in an undated photo. [Photo provided to chinadaily.com.cn]
I lived in this city at various times for about five years, making many friends, and enjoying many good times feasting on, sometimes very spicy food, at various restaurants.
One evening I was in Trustmart, a large supermarket in Sandian Shi Lu, where I met a Chinese school principal called Jack, we greeted each other and he invited me to take part in his schools English corner which was at the rear of Trustmart. I accepted his invitation and agreed to go to the school the following Saturday evening.
When I arrived at the school, students were playing ping pong, basketball, and just chatting with each other. Soon they gathered around me in the school English Corner, we began chatting and of course taking the inevitable photographs.
I met many of the students, they were very friendly we all had a great time. The English Corner finished about an hour later and I was escorted home by a group of students. It was a very happy occasion.
Later on in the week one of the students text me asking me to meet them at Trustmart, and go for a walk around Elephant lake with them on Sunday evening. I did not know the student, only it was a girl, her English name was Rita.
I replied "Yes that's ok". So we arranged to meet outside Trustmart.
Sunday soon came along. I was outside KFC at Trustmart when I heard a voice.
"David we are here". I turned around and to see two girls moving towards me. They looked very excited.
They introduced themselves to me as Rita and Anne. So we set off to the lake which was about ten minutes away. They were very friendly and were full of the usual teenage energy.
After about two hours walking around the lake they escorted me home.
This was November, going into winter. The middle of January was winter vocation for the schools. I continued to attend English Corner at the school. I got to know Rita and her friends very well, often going out with them to various places around Nanchang. Then Rita said she had a suggestion to make. She was the friendliest of the group.
She said "I would like to invite you to stay with my family in Ganzhou for some of winter vocation."
I replied "Let me think about it."
She said "That's ok". I could see she was anxious to get a positive reply. I did not know her very well, I had no idea about her home and family. Only her father was a teacher and her mother was a businesswoman. After a few days of deliberation I told her I would come and visit her family in Ganzhou.
So eventually winter vocation arrived, I made preparations to go on the five hour journey by train to Ganzhou.
The day to travel to Ganzhou soon came and I wove my way through the crowd at the Nanchang railway station, to catch K87 train to Ganzhou. The station was very busy with many students going home for winter vocation and Chinese New Year to their families. This is the time of the year for families to come together. Nearly six million people travel by train each day at this time of the year.
I boarded the train, it was carrying at least 1300 people, in 16 carriages, many would be standing in an effort to get home. I found my seat, the one bedside me was a vacant one. The train left on time, slowly picking up speed as it left the station and soon was speeding through the countryside. It was winter so the fields were bare of crops. The mountains in the distance had a slight covering of snow. Outside it looked like nobody even lived there.
Five hours and 450 kilometers later the train arrived in Ganzhou. I picked up my backpack from the over head luggage rack and threaded my way through the crowds of people heading for the station entrance, it seemed like a cattle drive, so many people. They moved through the ticket barriers where tickets are double checked before leaving the station.
I came to the open square outside the entrance to the station, to wait for Rita to arrive, she was running late, eventually she arrived with her younger brother.
Ganzhou is a very small town situated about halfway between Nanchang and Guangzhou.

Rita greeted me with her usual wide smile and everfrescent personality. We slid into the back of the taxi and headed for her family home situated on the western side of Ganzhou close the river. It took about 20 minutes to reach the entrance of the apartment complex. Then we walked to the entrance door of the family apartment. Rita keyed in the security code and we climbed up the stairs to the door of the apartment. It was a very modern apartment.
On entering into the living room her father and mother greeted me, they gave me a very warm welcome. I was very pleased I had made the decision to go there.
I was shown a separate room with a double bed, there were views from the window of the mountains and the river.
That evening after dinner Rita said she had something she wanted to talk about. So we sat down on the couch together, I felt very comfortable with her. She explained she had not one but two sets of parents. As a baby and as a small child she had been looked after by a couple in the country and she was going to see them, but it was in the country and very different living conditions than that in the city. She would like me to go with her and meet them too.
I said "Why not? I am used to living in places outside the city".
So on the 16th January we packed our things and set off to see her "country parents" as she called them. Her father took us in her uncle's car. It was dark by the time we arrived there and we had to walk the final few hundred meters because the entrance road to the village was under repair, that's another story in itself.
The door was open, when we arrived, no need to worry about security in the country, everyone knew each other in the village and took care of each other. The village children moved freely between each other's houses, and were taken care of. We entered the dining room, and then sat down and were offered some Chinese herbal tea. After some chatting Rita's father and uncle left to go back to Ganzhou.
I explored the small mountain at the rear of the village, visited the local primary school, enjoyed the clear air, and meeting the very friendly village people. Once again I was made very welcome.
The 19th of January was my birthday. I woke up as usual, dressed and went to have breakfast.
Rita was at the table, she said "David I have a birthday present for you, it's not much, but I hope you can appreciate it." It was a green plastic covered notebook. She said she did not have the chance to buy a good present, but hoped this would be sufficient for a birthday present.
I opened it up she had written in English the following words:
Hello,dear David. Happy birthday! Today is a special day. I do hope you are happy every day.
And may you be healthy! Please take care of yourself! You are my closest friend. I can talk with you about everything. To meet you I get much happiness from you. Thank you very much.
Well, I feel sorry I can't show you you a good gift! Well dear David I hope you'll like this notebook.

I do hope your life is sweet just like candy! Thank you for your understanding and kind to me! I guess that's an unforgetful experience to be with you because I get much happiness from you! Thank you very much! Thanks for everything you did for me! I'll keep in touch with you forever.
Because I care for you who is my closest friend, it's not easy for me to make friend that just be like you!!
Happy Birthday
Sincerely friend
Jian Xaing
As I was reading what she had written, she was watching anxiously.
When I finished, I was in tears, it was a birthday greeting from the heart. I had never had a birthday gift like this one.
I looked at her. I was not quite sure what to say, eventually I said,
"Rita I know you think this birthday present is not very good one, but I want to tell you, I know it comes from your heart. I really appreciate what you have written to me, you know, it's not the cost of the present that counts, but the feeling behind the present is much more important."
She was very relieved, she was smiling, and tears came to her eyes, she was very happy.
She jumped out of her chair and hugged me very tightly. It was a very happy day for her also.

The author is from New Zealand, and he came to China in October 2002 to teach English. He has taught in Nanchang University in Nanchang, Tong Ji University in Shanghai, Tianjin Sports University in Tianjin and in private training schools in Guangzhou, also at other schools during summer vocation in Zibo, Shandong province.

[Please click here to read more My China stories. You are welcome to share your China stories with China Daily website readers. The authors will be paid 200 yuan ($30). Please send your story to mychinastory@chinadaily.com.cn.]