Volunteering in countryside China
Share - WeChat China Daily website is inviting foreigner readers to share your China Story! and here are some points that we hope will help contributors:

Giving back, community service, volunteerism, and charitable outreach are all tag lines that have served to define the meaning of life as quoted by Winston Churchill: "You make a living by what you get, but you make a life by what you give." As human beings interconnected throughout the world, we haven't really lived until we have reached beyond ourselves to help somebody else. Over the course of my life, I've had the opportunity to learn what it means to serve others through use of my time, effort and resources. These experiences have shaped my life for the better, enabling me to appreciate life's simple pleasures.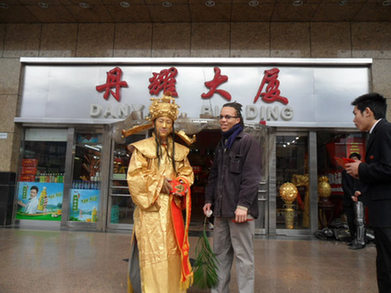 The author (center) poses at Wangfujing in Beijing on April 1, 2012. The man in suit was giving out red envelopes to passersby. [Photo provided to chinadaily.com.cn]
When I moved to China several months ago, I had the intention of doing volunteer work of some kind. Recently my first chance to roll up my sleeves to donate my time appeared. So I quickly capitalized on the opportunity to make a difference by traveling to rural China to teach free English classes to underprivileged primary school children through a non-governmental organization (NGO) known as Stepping Stones. The regular volunteer tours to Henan province are dedicated to providing the village children with chances to interact with foreigners, a rare event for them given the remoteness of their village.
The brevity of the two day trip did not subtract from its power. As our vans pulled into the entranceway of the school on the first day, loads of children frolicked about with joyful excitement. As we unloaded the vehicles with our teaching materials, we noticed a large red banner that welcomed [in Chinese] the Stepping Stones volunteers. Seemed they had looked forward to our visit. I felt like I had entered a different sphere of life. Everything was so unlike what I had become used to in megacity Beijing.
Each volunteer was assigned to a different grade in the primary school. I had the honor of teaching grade five, who all awaited my arrival to class upon the ringing of the bell that signaled the start of class. As I nervously walked into the room with my bags of supplies, they silently and eagerly sat at their desks waiting for me to greet them. Then all 34 of them responded in unison, "Good morning teacher!" They concentrated their total focus and respect on me.
My co-teacher, Corinne Hua, the founding director of Stepping Stones, came into class halfway through the first period to provide assistance, especially since her Chinese language ability was impeccable. Together we taught five classes that first day, including a collage art project, which completely engrossed the students' attention for a little more than an hour. The last period ended with a rehearsal where they had to sing the months of the year song holding up their art posters previously made. The rehearsal prepared them for the final performance on our last day at the school where all the grades had to perform an English skit or song for their classmates.
Never before had I ever taught children who were so respectful, grateful, humble and hungry for learning even though it was only for a very short time. Upon the conclusion of the trip, Stepping Stones provided the children with useful school supplies such as assorted markers, glue sticks, scissors, pencils and pencil cases. Their faces lighted up with exuberance upon the distribution of these presents. They loved us taking pictures of them with our digital cameras. They couldn't get enough of our snapping away; with their peace signs and smiling cheeks.
A small sightseeing component supplemented this trip of which I had the privilege to encounter thanks to my wonderful tour guide, chauffeur, and new found friend, Guo Lei. He planned a special itinerary for me to explore his hometown of Shangqiu. I toured the ancient city where the traditional stores and alleyways have remained and walked through the former residence of an influential poet. Then we climbed the stairs of a famous observatory where a gargantuan statue of a person who became the first businessman in China stood. Shangqiu is an obscure Chinese city most noted as the locale where commerce and trade first began.
Zhecheng County is an hour distance from Shangqiu, and is the place where we sojourned for two nights on our mission to teach English. My first time capturing a genuine glance of rural China, springtime proved the most opportune time to visit as we beheld the verdant agricultural fields and the fresh, open country air during our commute to the village school. It seemed as though children in this part of China had more time for play, enjoying the lightheartedness of youth. They were content with everything they had even if it seemed like much of nothing to an outsider. No fancy technological gadgets distracted them in class nor did grievances of overloaded schedules crammed with activity after activity.
It is from this trip that I felt the authentic spirit of Chinese hospitality. I ate to my heart's content every meat one can possibly fathom- chicken, pork, ox, fish, lamb, beef- and received celebrity attention from locals curious about my reggae hair, inclined to take pictures with me and of me. This memorable experience has proven my best yet in China because it humbled and enlightened me and I will never be the same again. I admire and appreciate the phenomenal work that NGOs such as Stepping Stones do for the community. I salute my fellow volunteers for their diligence in making the provincial tour successful and for the blossoming friendships that will live on.
Towards the end of the service trip, we enjoyed teaching the children a Scottish dance. They then relished it in their own way. In retrospect, I will never forget the lovely faces and spirits of these children and how much they impacted my life in that temporary period I shared with them. In the precious words of renowned gospel singer Cece Winans, "It's a colorful world it's a beautiful world that we live in." Please visit steppingstoneschina.net for more information about the annual volunteer project and how you can get involved in future tours to Henan province.

The author is an English Teacher for EF English First in North Beijing. He's been in China for four and a half months.

[Please click here to read more My China stories. You are welcome to share your China stories with China Daily website readers. The authors will be paid 200 yuan ($30). Please send your story to mychinastory@chinadaily.com.cn.]