Dancing in the park
Share - WeChat China Daily website is inviting foreigner readers to share your China Story! and here are some points that we hope will help contributors:

One cold Saturday in March, when the sun offered its first promise of warmth, I chanced upon Beihai Park in the middle of Beijing. I'd set out that morning to find the former residence, now a museum, of Mei Lanfang.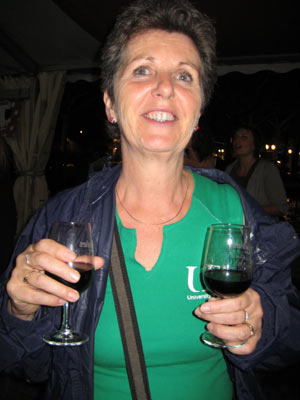 Sue Everest [Photo provided to chinadaily.com.cn]
Since starting my internship as an English teacher at the Sinopec Management Institute in the middle of February, I'd become intrigued by snippets of Beijing Opera shown on TV and found out more about the Dan characters from the internet. Why is it that back home in the UK when a male actor dresses up as a woman in a pantomime he does so for comic effect, whereas here in China proponents of Dan characters command respect and become revered for their acting skills and beauty?
Round the corner from Ping'anli subway station I managed to find the Mei Lanfang Museum located along the most picturesque hutong I'd seen to date, wooden signs portraying the trade of each shop. The costumes, pictures, room settings and video clips inside the museum kept me entertained for quite some time, but on coming out it felt too soon to go home. So I walked on.
In Beijing I'm forever wondering what lies further down the street. It has made my feet suffer, my legs ache, but also led to the most wonderful discoveries. I had an inkling that Beihai Park must be somewhere in that area, but on several occasions my map had made me believe distances were shorter than they turned out to be! Sometimes, however, my curiosity pays off. Just past an interesting looking museum on medicines I began to wonder why so many coaches had parked in the vicinity. I soon found out. On my left rows of red rickshaws were touting for business, taking tourists through hutongs in the direction of the Drum and Bell towers. On my right was the entrance to the Beihai Park. I turned right.
I found my way through archways, past temples, admired the goldfish and took photos of teenagers in traditional dress, whilst all the time wondering what the music in the background could mean. Then suddenly I emerged at the side of a huge lake with a white pagoda on an island further out.
Here it was that a group of joyful people were dancing and they were good. I remained transfixed. It was obvious this was some professional dance group turning out in the park for fun, but others joined in as well. One couple left their belongings on the grass (in London that's unheard of) and blithely joined in. Others remained on the outskirts of the audience, perfecting their steps on their own. All had a varied repertoire of Latin, Salsa and Jive. Not that I'm an expert! What amazed me more than anything else was the undeniable sense of joy and total lack of self-consciousness. It made me feel sad that in the west we have lost such artlessness. With some feeling of envy I stood watching till the end and the end came too soon.
At the appointed hour the dancing and music stopped, the crowd dispersed, the dancers went home and with a sense of having witnessed something special, so did I.

The author, from Norwich, UK, is on a 6 month internship at Sinopec Management Institute as an English Teacher.

[Please click here to read more My China stories. You are welcome to share your China stories with China Daily website readers. The authors will be paid 200 yuan ($30). Please send your story to mychinastory@chinadaily.com.cn.]