A Norwegian in China
Share - WeChat China Daily website is inviting foreigner readers to share your China Story! and here are some points that we hope will help contributors:

It started out like a normal day in September. The clouds blocked the sunlight and wind howled. I wrapped an extra scarf around my neck and rushed out of the front door. I had only ten minutes left in order to be on time for work. I decided to take the short cut along the lake. Below a mother duck cared for her chicks. Above an enormous bird was circulating in the sky, looking for a prey. The prey was me. He called out for me, and invited me to join him up above in the sky. At least that is what I like to believe. The bird made me longing for an adventure. With this in mind I arrived at work only five minutes too late. It was at work that a friend of mine told me again about Teach and Travel China, which I, until now, wasn't bothered to give it even a thought. Teaching, YES, but China?? No, no way! Now, however, she caught my interest. I pictured myself as a teacher in China for half a year, and couldn't wait to start the adventure. The bird had done it's work, and before the sun was replaced by the moon, I had sent my application form to TTC Norway.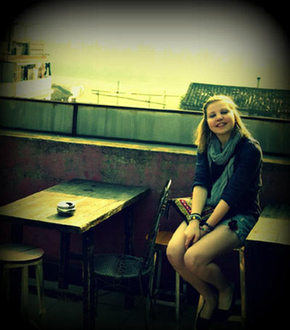 Emma Gerritsen [Photo provided to chinadaily.com.cn]
A couple of months earlier I happily graduated from high school, and couldn't wait to go out and see the world. The longing was there, but the plan wasn't, and for a long time I was restlessly walking around not knowing what to do in my gap year. Even my new job made me feel bored. Only one click, and the adventure became reality. Before you could say Jack Robinson the green leaves had turned red and yellow, fell on the ground and were covered with a thick layer of snow. The day of departure was approaching, and soon the calendar showed the 12th of January 2012. I met up with my friends, who also were going to the world's most populated country. After a transfer of 7 hours in time, and a sunrise and sunset we arrived in Beijing. I couldn't believe my own eyes. My preparation for China was little, as well as my expectations. A welcome dinner was waiting when we arrived our accommodation for the TFL training. We were going to stay there the next four weeks, together with eighty other people from all corners of the world. We spent an amazing month together, exploring all corners of Beijing, from the Great Wall and
hutong
to cozy bars and loud night clubs. Beijing is indeed amazing!
An enormous amount of information was given to us upon arrival, and the next day our training started at 7 am. WHAT? We weren't given a day off to relax? That was my first China experience which made me rise my eyebrows. In China you don't waste time, you have to function a hundred percent at all times. Later on, when I fell ill, I was taken to the hospital in order to get a drip. A DRIP?! In Norway you will only get a drip if you are about to die, in China you get a drip for a cold. And not only one bag of fluid, but five or more. This makes me think of something else I would like to include about wasting time. The life of a Chinese students differs in many aspects from the life of a European student. A Chinese student will spend his/her days absorbed in the books, hardly having time to do anything else than studying. A European student on the contrary will spend his/her time fooling around, playing games and watching TV. Even the holidays are dedicated to studies here in China. During the summer holidays our school in Changsha has for instants English summer camps. No time to waste when it comes to study.
After a month of intense TEFL training, we were spread with all winds all over China. With a group of six I headed off to Changsha, the place I would spend another five months. After a journey of 15 hours the train rolled into the station. As far as my eye could see there were people everywhere. China is crowded indeed. It just reached the 1.4 billion. Even though Changsha is a normal-sized city in China, it has a bigger population than the whole of Norway! We were met by our amazing staff. Chinese always have a smile hidden somewhere, and the laughter sits loose. Chinese are very curious, yet firm. Even though staring is common, the stares you get are minimal. When they stare however, their eyes are literally formed like a question mark.
Chinese people are happy and jolly too. When walking through the school yard a flow of "hello, teacher!" and "how are you" are filling your ears. During my family lesson my students even told me that I was a part of their family. How touching...You will feel being loved in China, and even though you are able to take care of yourself, Chinese don't trust you on that part. They will assist you as much as they can, all from carrying your shopping bag to showing up at the school gate every single morning.
Even though the society has it cons, it has its pros as well. Things are getting done in China. Within a week, a thirty-floor hotel was built. In Norway they would probably use a couple of years, because of the bureaucracy. During the past years China has dragged itself from a developing country to a more developed one. Villages turn into cities, trees make place for factory pipes, and advanced technologies become a part of everyday life. When I asked my students today, who delivers the post, those eager 3rd graders convincingly said "the computer". I figured out that even here in China the postman is outdated. The kids of the 21st century are grown up in a web of technology. iPhone 1, 2, 3 and 4 are more popular here than in many western countries, and Steve Jobs is absolutely honoured. Coca Cola is found in even the smallest shop, Korean and French fashion dominates the stores, Starbucks, KFC and McDonalds can be found on every street corner, and even imported butter and chocolate can be found in the store shelves. Sometimes it feels like you are in the west, but if you turn around Chinese surround you again.
When I look back at the past two months it seems another lifetime I was in Norway. I hardly can remember how the snow glitters, and how the stars shine at night. My city has become a blur, and people are merging faces in my mind. In these two months China has shown her strong side and made things happen. We have explored, experienced and learned more than our brain can bear. I always believed that China wasn't the place to be. The country and its people have defiantly convinced me of the opposite. I know that within a few months, when being back in Norway, the adventure in China will rather become a distant dream, which never seemed to happen. China will soon become a big blur, but then I only need to look in the mirror, and my reflection will tell me something else. As every other experience in one's life, China will leave its marks. Every single wrinkle in your face, every single dot on your skin, and every single glance in your eyes reflects the story of your life, and China will be a part of it.

The author is from Norway and she works at Shazitang Education Group, Changsha, Hunan.

[Please click here to read more My China stories. You are welcome to share your China stories with China Daily website readers. The authors will be paid 200 yuan ($30). Please send your story to mychinastory@chinadaily.com.cn.]