Our visit to Wonderland
Share - WeChat China Daily website is inviting foreigner readers to share your China Story! and here are some points that we hope will help contributors:

It was a hot, muggy Saturday morning. Aidan and I decided to head out on our hike after lunch, we had been curious about the mysterious looking temple on the crest of the hill ever since we had arrived in Fuzhou.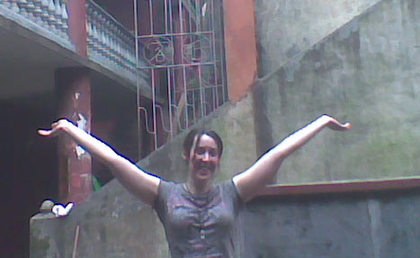 Robyn Manton [Photo provided to chinadaily.com.cn]
We bought some provisions of fresh mangos and oranges from the fruit vendor outside the school and I got a cheeky bar of chocolate (for energy of course!). It was a two hour walk to the temple and it didn't take long to realize that the locals had not seen westerners for a long time as we were getting prolonged stares from everyone we passed.
The countryside was green and lush with rice paddy on both sides. Chickens and cows roamed freely, kicking up the hot orange dust from the road. As we approached the temple's entrance we were suddenly swarmed by little old ladies trying to sell us joss sticks and candles (It reminded me of night of the living dead!).
Once we escaped from them we started the almost vertical hike up to the temple - it was tough! Every five minutes we had to catch our breath and glug some coke. As we entered the temple gates everything seemed to become still and I realized I was in the presence of something truly magical. The trees lined the steps and looked like something out of a Tim Burton film, except the branches were laden with scarlet ribbons rippling in the wind. The smell of incense infused the air and I felt very peaceful.
Aidan and I bought some ribbons to make a wish. I wished for the health and happiness for all the people I love (but secretly I wished to be a famous costume designer as well!) We sat and ate our fruit on the steps. The taste was sublime, rich, sugary and sun ripened, it melted in our mouths, we had definitely earned a break.
The Chinese tourists seemed to be taking as many pictures of us as of the temple - I've never been a tourist attraction before. Aidan insisted on having a picture of him perched over the edge of the temple balcony. I'm not good with heights so I took the photo, then averted my eyes until he was back over the edge. We started our assent back down the summit, this time following some people down a small overgrown path whilst crossing our fingers that we wouldn't get lost! The steps through the undergrowth seemed to go on forever. We passed a little dilapidated hut containing an ancient man dressed in robes who read people's palms. He looked like he had sat there for a hundred years.
At the foot of the hill the light broke through a parasol of trees and we found ourselves in a courtyard surrounded by the monk's living quarters. The architecture was grand with green roofs and stone steps leading down to a stunning garden with flowers that seemed to glow. In the centre was a pond with a glistening shoal of bright orange fish and a 20 foot statue of a God rising above. The monks dutifully attended to their daily chores. We noticed two of them laughing and play-fighting - an amusing contrast to the grand and serious atmosphere. I could have stayed there all day and night; it was like paradise, but our stomachs started rumbling. Serenity is a hungry business and so we began to head home, taking care to avoid the zombie joss stick merchants. Shivering from being in the sun all day and absolutely exhausted we topped of our day with a bottle of cold beer in the evening sun and collapsed into bed.

The author is a TEFL teacher situated in Fuzhou with his boyfriend Aidan Mcinerney at a school called Mayfora International school.

[Please click here to read more My China stories. You are welcome to share your China stories with China Daily website readers. The authors will be paid 200 yuan ($30). Please send your story to mychinastory@chinadaily.com.cn.]