Sino-US tension eases in runup to talks
Updated: 2015-06-19 08:28
By Zhao Shengnan (China Daily)
Comments
Print
Mail
Large
Medium
Small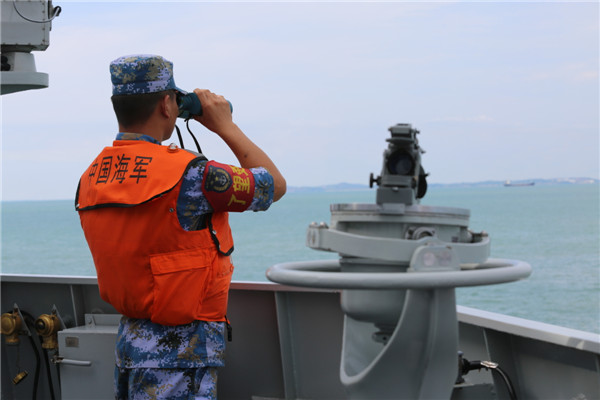 A Chinese navy sailor stands lookout aboard the missile frigate Yulin during a maritime exercise between China and Singapore on May 24. [Photo/Xinhua]
A change in tone
Wang Yiwei, a professor of international relations at Renmin University of China, detected a subtle change in the US' tone, followed by that of Southeast Asian nations, at the forum.
"Washington understands the consequences of US-Sino confrontation, and conflict is not on the agenda," said Wang. "Still, it has to issue criticisms of China over the South China Sea to show its muscle and commitment to its Asian allies."
Adding to the toned-down trend, General Fan Chang-long, vice-chairman of the Central Military Commission, accomplished the highest-level trip by a Chinese military official to the US since November 2012.
The nations signed a China-US army dialogue mechanism agreement, the first cooperation document to be signed by the two armies in recent years, and vowed to reach agreement on the air-to-air annex to the code of conduct on military encounters, before President Xi Jinping visits the US in September.
Both countries may hold joint exercises based on the code of conduct to make sure its terms are implemented correctly, and the US has invited China to attend the Rim of the Pacific exercises next year.
Fan told Carter that the South China Sea issue is only an episode in the history of China-US ties, and that the two sides should take the higher ground and look to the future by paying more attention to other, more important, regional and international issues.
Jin Canrong, deputy dean at the School of International Studies at Renmin University of China, said that the South China Sea has overshadowed overall ties, and that this is not in the best interests of the US.
China is not the country that started construction work, and its stance of peacefully resolving disputes remains unchanged, said Jin, adding that the US stirred up the militarilization of the region and has a responsibility to ease the tension.