Sino-US tension eases in runup to talks
Updated: 2015-06-19 08:28
By Zhao Shengnan (China Daily)
Comments
Print
Mail
Large
Medium
Small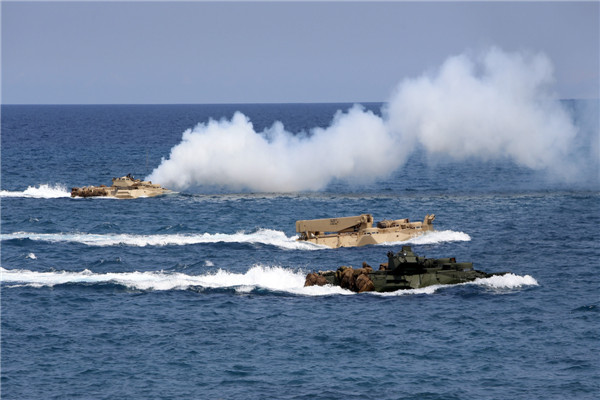 US military forces on amphibious assault vehicles operate in the South China Sea near the shore of San Antonio, Zambales province, Philippines, during the annual Balikatan (shoulder-to-shoulder) war games with Philippine soldiers on April 21. [Photo/Agencies]
'US hands are tied'
Tao Wenzhao, a senior researcher on US studies at the Chinese Academy of Social Sciences, said Washington views China as the one nation that has the potential to challenge its global leadership, and believes maintaining dominance in the western Pacific is vital for sustaining its leading role in the region.
"US hands are relatively tied on the Asian mainland as China maintains good relations with its neighboring countries on land. Therefore the western Pacific, with territorial rows between China and some Asian countries, has become a major diplomatic battlefield where the US can compete with China," he said.
China has competing territorial claims over parts of the South China Sea with the Philippines, Vietnam, Malaysia and Brunei. The resource-rich sea is a key shipping route, with around $7 trillion in international trade passing through it annually.
Beijing has issued several detailed statements about its construction projects on the Nansha Islands, saying the territory falls within its sovereignty and the work is for peaceful purposes. The reasons the US gives for its opposition include guaranteeing freedom of navigation, the prospect of China's militarization of the islands and its commitment to its allies.
Jia Xiudong, a senior international affairs researcher at the China Institute of International Studies, said Washington's motives seem more concerned about the pace of its Asia "pivot" strategy than about China's moves.
While rival claims over fishing grounds and shipping lanes in the South China Sea go back decades, they flared up in 2010, foreshadowing Washington's pivot strategy, announced in 2011. Since then, the issue has become more complicated, Jia said.
Even though Washington has toned down its remarks recently, it is likely that, during the runup to the US presidential election, candidates hoping to secure their party's nomination will try to demonstrate their foreign policy credentials by targeting China over the South China Sea and other issues, Jia said.
Singapore's The Straits Times wrote on May 31 that when the US and Chinese delegations entered the ballroom for the first plenary session at the Shangri-La Dialogue, "the air was filled with expectancy" and "many, including the Chinese military delegation, expected another verbal fusillade from the Pentagon leader".
Instead, US Defense Secretary Ashton Carter talked a lot about the importance of regional cooperation and the willingness to promote US-China military cooperation, even through he urged all countries, including China, Vietnam and the Philippines, to halt construction.