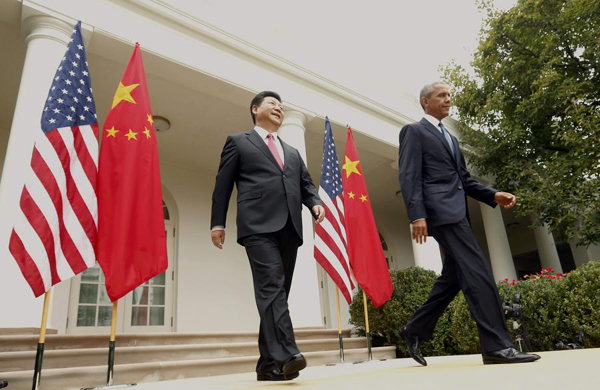 US President Barack Obama (R) and Chinese President Xi Jinping hold a joint news conference in the Rose Garden at the White House in Washington September 25, 2015.  [Photo/Agencies]
Xi also recalled his reunion with old friends from Iowa three years ago and said he is fully confident in the future of Sino-US ties.
Obama said during the ceremony: "The US welcomes the rise of China that is stable, prosperous and peaceful, because that benefits us all." In fact, I believe that our two great nations, if we work together, have an unmatched ability to shape the course of the century ahead," he added.
During the welcoming ceremony, Obama and his wife, Michelle, welcomed Xi and his wife, Peng Liyuan. The ceremony, which was attended by hundreds of officials, representatives and friends, featured a 21-gun salute.
Yuan Peng, vice-president of the China Institutes of Contemporary International Relations, noted that both countries are undergoing a shift in which the US is placing more focus on Asia while China is making progress.
The new situation requires in-depth discussions by the top leaders, Yuan said.
Xi also planned to attend a luncheon hosted by US Vice-President Joe Biden and Secretary of State John Kerry and meet with US congressional leaders before attending a state dinner. He will also attend a range of summits at the United Nations in New York from Saturday through Monday.