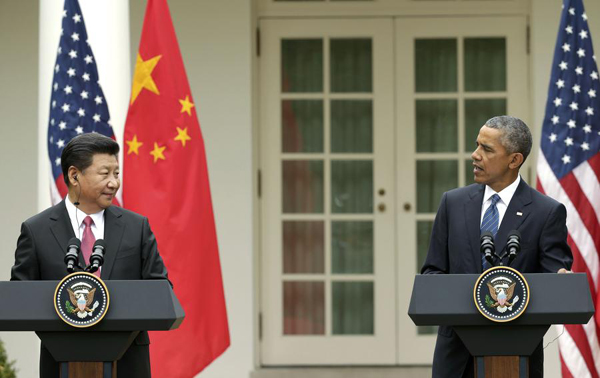 US President Barack Obama (R) and Chinese President Xi Jinping hold a joint news conference in the Rose Garden of the White House in Washington September 25, 2015. [Photo/Agencies]
China and the United States marked major milestones on cybersecurity and the fight against climate change on Friday during President Xi Jinping's state visit to the US.
Both sides have agreed not to conduct or support cybertheft, Xi and US President Barack Obama announced in a joint news conference.
Additionally, in a joint statement that built on last November's historic announcement by Xi and Obama on post-2020 climate targets, the two countries set out a common vision for a new global climate agreement to be concluded in Paris this December.
It includes commitments to global climate finance and demonstrates the determination of both countries to act decisively to achieve the goals set last year, according to the White House.
As Xi embarked on the long-awaited summit with Obama, the two leaders voiced strong confidence in China-US ties.
Both sides have pledged commitment to resolving disputes between them, which observers said sends a clear signal to the world that the two largest economies are making promises to avoid miscalculation or conflict in the Asia-Pacific region.
During a welcoming ceremony on the South Lawn of the White House, Xi said that the two countries should enhance strategic mutual trust, deepen understanding and respect each other's core interests and concerns.
On the world stage, China and the US should strengthen coordination on major issues and "jointly face global challenges", he added.