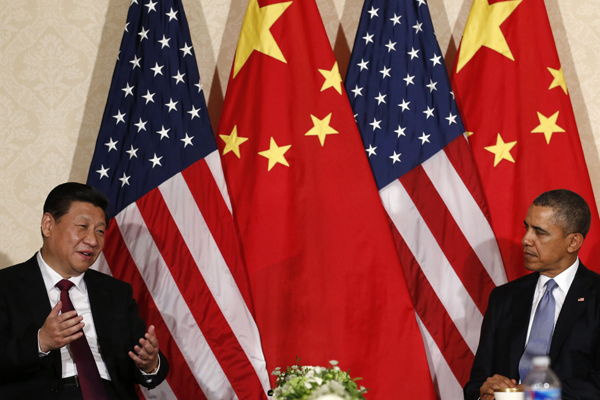 President Xi Jinping meets with his US counterpart Barack Obama on the sidelines of the Nuclear Security Summit in The Hague on March 24, 2014. [Photo/Xinhua]
Security challenges existing between China and the US are expected to be an important topic during the summit between Chinese President Xi Jinping and his American counterpart Barack Obama on Thursday. Experts in Washington said it will take a long time to tackle security issues but both countries can work together to minimize the problems.
Ushering President Xi's visit, the Center for Strategic and International Studies (CSIS) held a salon on Monday on security challenges between the two biggest economies in the world. Experts said the two countries have many challenges such as cybersecurity, terrorist attacks, the South China Sea and nuclear-related facilities in North Korea. In some areas, both countries could find common interests and prevent any incidents from damaging bilateral relations.
Christopher Johnson, senior adviser and Freeman Chair in China Studies at CSIS, said the relation with the US may be the most important for the Chinese government. It follows that both sides are not risk-takers and will try to avoid incidents that damage bilateral relations despite of current tensions in the security field.
Michael Green, senior vice president for Asia and Japan Chair at CSIS, said President Xi will have a working dinner at the White House on Sept 24, which is useful because a lot of issues can be discussed.