Projects adrift as Cheju revamps investment plans
Updated: 2014-06-25 07:02
By Hu Yuanyuan (China Daily)
Comments
Print
Mail
Large
Medium
Small
Some Chinese-backed property projects are being held up on South Korea's Cheju Island as the local government has decided to re-examine previously approved plans and substantially raise the requirements for foreigners to obtain permanent residence through real estate investment, media reports said.
According to the National Business Daily, real estate projects that were previously approved but haven't started construction will be re-evaluated. The newspaper cited a local government official.
A resort complex under development by the Jeju Free International City Development Center and China property developer Landing International Development Ltd, for instance, is one of the projects that have been affected.
The two sides signed a memorandum of understanding in April and were to have held a groundbreaking ceremony on Tuesday. However, the project was suspended due to plot ratio issues, local media reported.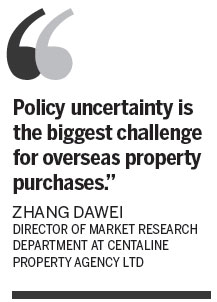 The suspension followed comments by local government officials last Tuesday that the island welcomes Chinese capital but is definitely against speculative capital. Landing Group was not available for comment.
And a project by South Korea-based Lotte Group and Greenland Holdings Group, a large-scale property developer, has failed to make progress, South Korea's local media reported.
Under South Korea's 2010 immigration plan, foreigners who invest 500 million won ($490,000) in hotels or resorts on Cheju Island can get permanent residence rights in the country.
That provision sparked enthusiasm among Chinese investors, and some real estate projects had Chinese ownership in excess of 30 percent.
Industry statistics showed that as of March 2012, Chinese nationals held sites totaling 5.7 million square meters in Cheju Island. But during the first quarter of 2013 alone, Chinese land purchases hit 400,000 sq m, compared with European investors at 140,000 sq m and US investors at 90,000 sq m.
The influx of Chinese capital has aroused concerns among local residents. A 48-year-old resident of Cheju told local media that the influx of Chinese capital might push up property prices, turning Cheju into "a second Hainan Island".
"Policy uncertainty is the biggest challenge for overseas property purchases," said Zhang Dawei, director of market research department at Centaline Property Agency Ltd. "If there's a policy change, investors will be very cautious, leading to a fall in transactions."
huyuanyuan@chinadaily.com.cn
(China Daily 06/25/2014 page16)