Xi pledges to boost ties with neighbors
Updated: 2014-08-23 04:12
By WU JIAO in Ulan Bator and ZHAO SHENGNAN in Beijing (China Daily)
Comments
Print
Mail
Large
Medium
Small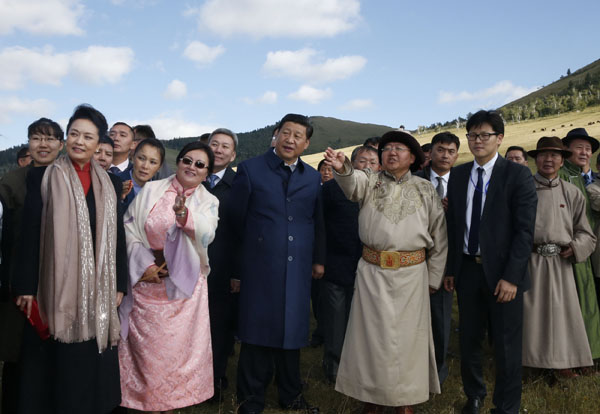 President Xi Jinping and his Mongolian counterpart Tsakhiagiin Elbegdorj attend the Nadam Fair, a traditional Mongolian pageant featuring entertainment and games on Friday in Ulan Bator. They were accompanied by their wives Peng Liyuan and Bolormaa Khjidsuren. [Photo/Xinhua]
Beijing promised more shared development and less tension with its neighbors on Friday as President Xi Jinping delivered a speech in Mongolia focusing on China's neighborhood policy.
The speech, which emphasized China's need for and commitment to peace with its neighbors, was made against the backdrop of recent territorial disputes with some of them that have strained relations and stirred speculation of a "China threat".
China is willing to offer opportunities and room for common development to Mongolia and other neighbors, Xi told the State Great Hural of Mongolia, the parliament.
Xi, on the last day of his two-day trip to Mongolia, with which China shares its longest land border, dismissed concerns about a "China threat". He said these arose from either a misunderstanding or were "simply a distortion".
He said it is inevitable that neighbors will have disagreements, but the key is how to address them. Strengthening consensus and solving disagreements through dialogue and cooperation is the most effective way to achieve security in the region.
Xi stressed that China will seek a fair distribution of interests in its cooperation with developing countries.
"We will never do things that could result in 'one wins and the other loses' or 'one wins more and the other gets less.' We will take into consideration the other side's interests in some specific projects," he said.
"China will surely do what it has said and deliver on what it has promised," he added.
Xi said China will provide 1,000 training opportunities and 1,000 governmental scholarships for Mongolians in the next five years.
It will also train 500 Mongolian military staff members, invite 500 young Mongolians and 250 Mongolian journalists to visit China and offer 25 Chinese TV dramas in the same period, he said.
It is the second time that Xi has made a single-country foreign trip since becoming president in March 2013. Mongolia is also the seventh neighboring country he has visited since taking office.
All these visits involved a tight schedule, a large number of signed deals covering a wide spectrum, as well as activities and remarks highlighting close cultural ties between China and its neighbors.
Qu Xing, president of the China Institute of International Studies, said China needs stable and prosperous surrounding countries, which can help it to focus on its main task of development.
Neighboring countries would also benefit from China's support in financing and technology, especially when most of these nations' economies highly complemented China's, he said.
Wang Fan, vice-president of China Foreign Affairs University, said Beijing has shown its sincerity by initiating and pushing forward a range of proposals to benefit joint development in the region.
During visits to Central Asia and Southeast Asia last year, Xi proposed setting up the Silk Road Economic Belt, a 21st-century maritime Silk Road and the Asian Infrastructure Investment Bank.
In May, he proposed a new framework for security cooperation in Asia, which accounts for one-third of the global economy but faces challenges including territorial disputes, terrorism and interference by countries outside the region.
Efforts were also increased to strengthen public links between China and its neighbors, which Wang said could be a foundation for China's neighborhood diplomacy.
Hao Shiyuan, assistant to the president of the Chinese Academy of Social Sciences, said no country could choose its neighbors, and China's rapid growth and respect for its neighbors represented a "win-win outcome".