President Xi urges Mongolian parliament to endorse bilateral cooperation
Updated: 2014-08-22 17:31
(Xinhua)
Comments
Print
Mail
Large
Medium
Small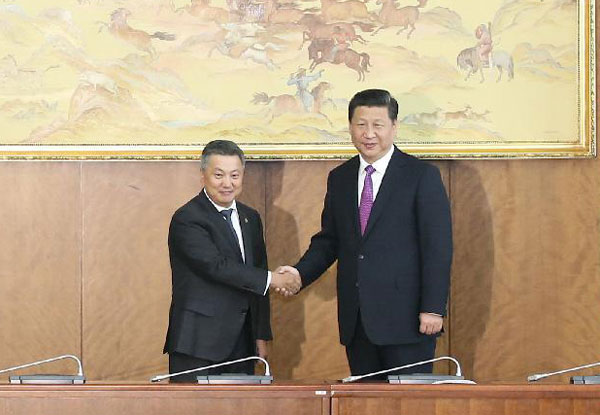 Chinese President Xi Jinping (R) meets with Chairman of the Mongolian State Great Hural Zandaakhuu Enkhbold in Ulan Bator, Mongolia, Aug 22, 2014. [Photo/Xinhua]
ULAN BATOR -- Chinese President Xi Jinping on Friday urged the Mongolian parliament to endorse the cooperation between the two countries.
"(I) hope the Mongolian State Great Hural will support the cooperation between the two countries and provide a transparent, stable and favorable legal environment for the cooperation," said the visiting Chinese leader at a meeting with Zandaakhuu Enkhbold, chairman of the Mongolian parliament.
Hailing the close interactions between the State Great Hural and the Chinese National People's Congress in recent years, Xi said he welcomes Enkhbold's visit to China later this year and supports the two legislatures to establish a mechanism of regular exchanges.
Xi said the two legislative bodies are expected to enhance exchanges on governance and rule of law, promote mutual trust, and facilitate interactions between political parties and youths of the two countries, so as to instill new vitality into the bilateral relations.
Enkhbold said the State Great Hural backs the priority that the Mongolian government attaches to the relationship with China in its foreign policy, adding it also supports China's stance on Taiwan and Tibet affairs.
The State Great Hural is pleased to see the two countries' presidents announce the establishment of the comprehensive strategic partnership Thursday, which is significant for the bilateral relations, he said.
The State Great Hural stands ready to increase exchanges with its Chinese counterpart, he added.
Enkhbold said he looks forward to visiting China in October, when he will exchange ideas with the Chinese side to promote the friendly cooperation between the two countries.
Xi said his talks with Mongolian President Tsakhiagiin Elbegdorj on Thursday were fruitful and that he believes the China-Mongolia practical cooperation will stride ahead and benefit the two peoples.
In a joint declaration, Xi and Elbegdorj agreed to upgrade the bilateral ties from a strategic partnership to a comprehensive strategic partnership.
The two presidents also set a target of expanding two-way trade to 10 billion U.S. dollars by 2020.
Xi arrived in Ulan Bator on Thursday morning for a two-day state visit to Mongolia. It is the first visit in 11 years by a Chinese head of state to Mongolia, and also the second time for Xi to make a one-country foreign trip since he took office in March 2013.