Connecting with the Flanders-China chamber
Updated: 2014-03-31 07:28
(China Daily)
Comments
Print
Mail
Large
Medium
Small
Q+A | Bert De Graeve
Chairman: Keys to doing business in both cultures
Editor's note: As Chinese President Xi Jinping visits Belgium from Mar 30 to Apr 1, Bert De Graeve, chairman of the Flanders-China Chamber of Commerce and also CEO of Bekaert Group, talked with China Daily reporter Zhang Zhao about the latest development in business cooperation between the two countries.
What are the major achievements in economic and trade cooperation between China and Belgium in the recent years?
Economic and trade relations between Belgium and China have been constantly expanding.
Belgian companies - especially Flemish companies - are very flexible and are very accommodating in working with Chinese partners. Both sides have a pragmatic way of working. Our companies are good at analyzing problems and formulating workable solutions. In working together with Chinese partners one should not be patronizing but rather listen and work toward a common approach that will result in a win-win situation favorable to all concerned.
Belgian companies such as Bekaert, Barco, Agfa, Umicore and Picanol have their feet on the ground. They have brought world-class technologies to China in many areas that have contributed to the further development of China's economy and society.
What advantages do both sides have in the bilateral business relationship?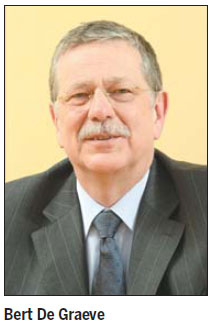 Although our countries are very much different in size and population, we are capable of working very well together because China is very respectful of smaller partners. Belgium tends to focus on getting business done rather than trying to score political points. Moreover, Belgium has unique access to the European market.
In what areas the business environment in China has improved and in what areas difficulties still remain?
The investment climate in China is constantly improving. More and more sectors are being opened up to private Chinese investment and also foreign investment.
Of course, China is a very competitive market as all of the world's companies worth their mettle in their sector are trying to grab a piece of the Chinese market. There is also a problem of overcapacity in many sectors, often caused by the abundant availability of financing and other stimuli.
For some companies it might be very difficult to succeed, but to have a fighting chance you need to have a unique product, continue innovating by investing in R&D and keep ahead of the competition by listening to your customers.
Some difficulties remain, such as corruption and the enforcement of intellectual property rights, but the Chinese authorities are aware of those issues and are proactively fighting to solve them.
As Premier Li Keqiang has emphasized, China will provide a level playing field for domestic and foreign companies. We cannot ask for more. With a level playing field it is up to every company to work to the best of its ability to come out on top of the competition. However, missed business opportunities owing to market access and regulatory barriers have been reported by half of all European companies doing business in China.
In which sectors do you see new partnership potential in the future?
The sectors of the Internet and mobile communications are advancing very fast in China, but up to now Belgian companies have not been very active in this field. No doubt there are also many opportunities to explore in sectors including healthcare, environmental protection, clean energy, new materials and electric vehicles.
Closer cooperation in the field of higher education is also a possibility, and from our side we should promote more English-language courses, which would make higher education in Belgium more accessible to Chinese students.
What is the role of the FCCC in promoting the China-Belgium relationship? What methods will you use to encourage Belgian companies to invest in China?
The Flanders-China Chamber of Commerce is set up by the largest Belgian investors in China. Our aim is to assist Belgian companies to do business in China and to support Chinese companies to invest in Belgium, the heart of Europe. We do this through the exchange of knowledge, experience and our network that we have built up in China.
We serve as a powerful information platform while at the same time giving Chinese delegations an opportunity to meet our members and the relevant Belgian authorities. That way, the Chinese can also learn about the opportunities we offer as a dynamic region at the very heart of Europe. We will continue to do this with the support of the Flemish government and acting in conjunction with the Belgian federal government.
Although information is becoming more and more accessible we try to make it more convenient for businesspeople in our country to get reliable economic and business news from China by e-mailing weekly newsletters to our members.
We also try to encourage Belgian companies to invest in China by documenting and popularizing the positive stories of those who have gone before them. We have already published two volumes of FCCC Member Portraits in China showing newcomers how obstacles have been overcome and success achieved step by step. Besides that, we regularly organize conferences and briefings on topics that companies need to know when they invest in China.
Belgian companies can also benefit from the activities organized on a European level as the Flanders-China Chamber of Commerce also holds the secretariat general of the EU-China Business Association. And of course we develop and maintain the best possible relations with the Chinese diplomatic presence in Belgium.
What suggestions do you have for Chinese companies that plan to invest in Belgium?
When Chinese companies plan to invest in Belgium it is important to get a good insight on the investment climate, investment funds, the local regulations, tax advantages, the culture and other aspects to build up a network with authorities, our chamber of commerce and our member companies.
They also need to share experiences and learn from other Chinese companies that have invested here and exchange views with Belgian companies about how they work. As the Chinese saying goes, "crossing the river by feeling the stones" is the best way to move forward.
Belgian companies investing in China should do their homework well to avoid disappointments. Chinese companies planning to invest in Belgium should do likewise. The Belgian and European markets are also very complicated for Chinese businesspeople accustomed to the Chinese market. But many tools are available - including our Flanders-China Chamber of Commerce - to guide them and help them along. I can assure you that Chinese investors will be warmly welcomed in Flanders and will quickly start to like doing business here.
Do you have any other topics that you want to share with our readers?
We are delighted that President Xi Jinping is visiting Belgium and hope his visit will be a complete success, marking another milestone in the development of our fruitful bilateral relations.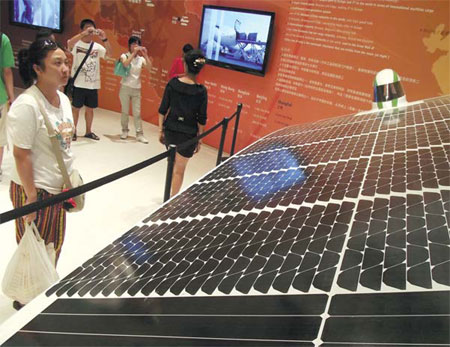 Belgium-developed solar-energy equipment on display at the 2010 Shanghai World Expo. Business leaders see great potential for clean energy technology in China. An Dong / For China Daily