India, China leaders to discuss trade, investment
Updated: 2014-09-18 14:43
(Agencies)
Comments
Print
Mail
Large
Medium
Small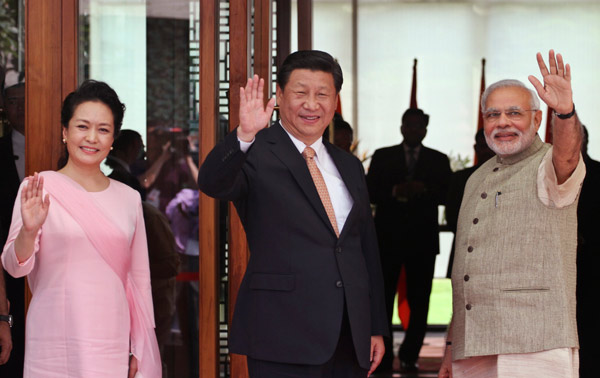 President Xi Jinping and his wife, Peng Liyuan, wave after they were received by Indian Prime Minister Narendra Modi upon arrival at a hotel in Ahmedabad, India, on Wednesday. [Photo/Agencies]
NEW DELHI - Visiting Chinese President Xi Jinping and India's Prime Minister Narendra Modi were Thursday scheduled to hold talks aimed at boosting trade and Chinese investment.
Xi was given a ceremonial welcome at the presidential palace in New Delhi, with the president's bodyguards on horses and inspected a military guard of honor. Later, the Chinese leader and his wife visited a memorial to Mohandas Gandhi to pay homage to India's independence leader.
The main focus of the talks would likely be on pushing Chinese investment in developing India's infrastructure and boosting Indian exports in an attempt to improve the balance of trade.
Trade between the countries was more than $70 billion in 2013. The countries have set a trade target of $100 billion by 2015, but both sides still need to iron out wrinkles in their trade and tax policies to help achieve that goal.