FTA high on agenda of China, Sri Lanka
Updated: 2014-09-17 03:59
By WU JIAO in Colombo, Sri Lanka, and ZHANG YUNBI in Beijing (China Daily)
Comments
Print
Mail
Large
Medium
Small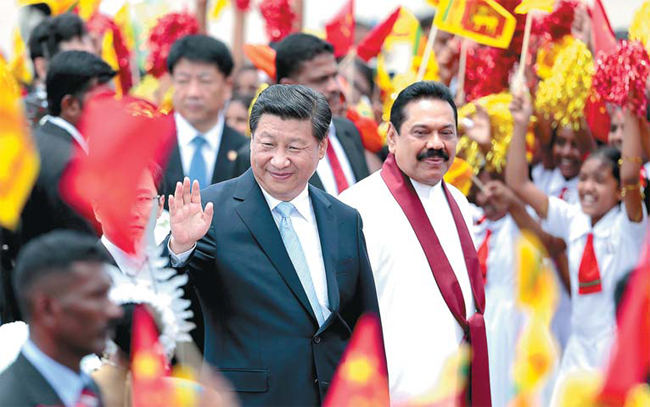 President Xi Jinping waves to the gathering as he walks with Sri Lankan President Mahinda Rajapaksa after arriving at the airport in Colombo, Sri Lanka, on Tuesday. [Photo/Agencies]
China and Sri Lanka announced the start of negotiations on a free trade a
gree
ment, a deal observers said will inspire greater engagement from other South Asia nations in
Beijing
's proposed
Maritime
Silk Road project.
The announcement came after Xi met with Sri Lankan President Mahinda Rajapaksa in Colombo on Tuesday. Xi's visit is the first trip to the country by a Chinese head of state in 28 years.
To show their hospitality, the Sri Lankan presidential couple went to the airport for the arrival. Forty elephants were lined up to greet Xi.
China and Sri Lanka are 'trustworthy and reliable with each other", and China is willing to be a good partner that can weather storms together, Xi said at the meeting.
Rajapaksa said China's economic contribution to Sri Lanka is unprecedented, and he hoped that the FTA talks — which will begin on Wednesday — will come to a successful end at an early date.
Sri Lanka supports China's Maritime Silk Road project because it resonates with the country's vision of development, he added.
On Tuesday, the two countries also signed more than 20 deals covering infrastructure, power, transport and culture.
Last year, bilateral trade reached $3.62 billion as China became Sri Lanka's largest investor.
Zhou Gang, former Chinese ambassador to India, said following the start of the FTA talks that more Chinese enterprises will be encouraged to invest in Sri Lanka and participate in construction of industrial parks, special economic zones, power grids, expressways and railways.
Ye Hailin, an expert on South Asia studies at the Chinese Academy of Social Sciences, said Sri Lanka is widely known as a pearl in the Indian Ocean, and its location 'signifies an irreplaceable role" in the Maritime Silk Road project.
Jiang Jingkui, director of the Center of South Asian Studies at Peking University, said that Sri Lanka, as a key stop of the Maritime Silk Road, has a great demand for China to boost infrastructure construction.
'The booming infrastructure sector there will inject dynamism into other Maritime Silk Road participant countries," Jiang said.
Ye said the visit by a Chinese president 'symbolizes firm support" for Sri Lanka.
Zhou said Xi's visit will make the high-level trust 'even stronger".
As for Sri Lanka's role in China's diplomatic picture, Assistant Foreign Minsiter Liu Jianchao said the country is 'a role model of friendly coexistence and mutual benefit between countries big and small".