President is 'looking forward' to Pakistan visit in near future
Updated: 2014-09-13 02:06
By Wu Jiao in Dushanbe and Hou Liqiang in Beijing (China Daily)
Comments
Print
Mail
Large
Medium
Small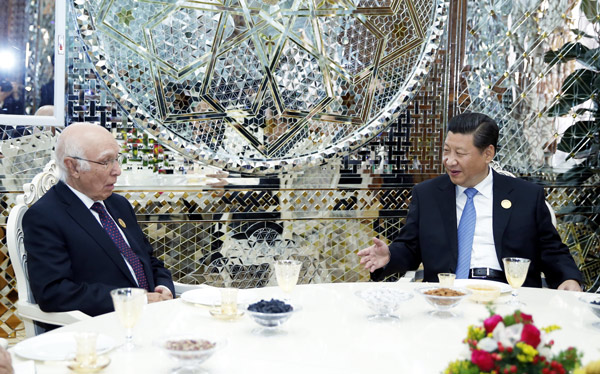 President Xi Jinping meets Sartaj Aziz, special adviser on foreign affairs and national security to Pakistan's Prime Minister Nawaz Sharif in Dushanbe, Tajikistan, on Friday. [Photo/Xinhua]
President Xi Jinping said on Friday that he looks forward to visiting Pakistan at an early date, days after the two countries announced the postponement of Xi's visit to the South Asian nation originally scheduled for this month.
Xi made the remark while meeting with Sartaj Aziz, special adviser on foreign affairs and national security to Prime Minister Nawaz Sharif, on the sidelines of the Shanghai Cooperation Organization leaders' summit in Tajikistan.
China and Pakistan are all-weather friends, and they always understand and support each other, Xi said.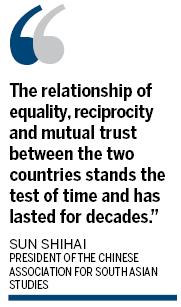 China gives priority to China-Pakistan ties in its foreign policy and is committed to pushing forward the development of their strategic partnership, he said.
"I've been earnestly looking forward to visiting Pakistan," Xi added.
He said Sharif is welcome to visit Beijing and join meetings during the APEC meeting in November and that he looks forward to seeing him then.
As for the current security situation in Pakistan, Xi said parties in Pakistan are capable of resolving differences and maintaining national stability via negotiations that serve the fundamental interests of the nation and the people.
Xi announced that China would provide further aid to Pakistan for its flood disaster relief work.
Aziz said Pakistan is always grateful to China for its understanding and support.
Pakistan and its people are looking forward to Xi's state visit at an early date, Aziz said, and that the visit will greatly fuel the two nations' cooperation and boost bilateral ties.
Earlier this month, Pakistan announced that Xi's visit to Islamabad had been delayed following demonstrations held in the federal capital.
Sun Shihai, president of the Chinese Association for South Asian Studies, said the meeting of Xi and Aziz shows that the friendly relationship between China and Pakistan will never change.
"The relationship of equality, reciprocity and mutual trust between the two countries stands the test of time and has lasted for decades," said Sun.
Wang Xu, assistant director of the Center for South Asian Studies at Peking University, said: "The relationship of China and Pakistan is very stable. No matter what happens to the political situation in Pakistan, whether or not Xi postpones his visit, the relationship will not change."
"At least six projects of the China-Pakistan Economic Corridor, which the two countries agreed to build last year, have been initiated," Wang said.
"This shows the relationship of the two countries is pragmatic."