SCO paves the way for new members
Updated: 2014-09-13 01:56
By WU JIAO in Dushanbe, Tajikistan and ZHANG YUNBI in Beijing (China Daily)
Comments
Print
Mail
Large
Medium
Small
China welcomes countries joining that can 'meet the requirements'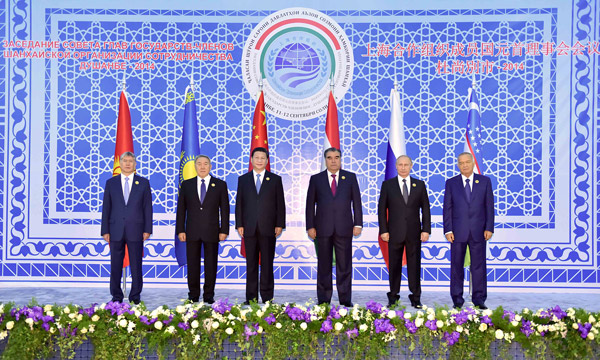 From left: Kyrgyzstan President Almazbek Atambayev, Kazakhstan President Nursultan Nazarbayev, Chinese President Xi Jinping, President of Tajikistan Emomali Rahmon, Russian President Vladimir Putin and President of Uzbekistan Islam Karimov pose for photographs at the Navruz Palace in Dushanbe on Friday.[Photo/Xinhua]
Leaders of Shanghai Cooperation Organization member states reached an agreement on Friday that analysts said opens the door for new members to join the security group that targets terrorism.
The agreement covers two key legal documents regarding the procedure for entitling membership and the obligations of states applying for it.
The leaders were attending the 14th meeting of the SCO Council of Heads of State in Dushanbe, the capital of Tajikistan.
President Xi Jinping said at the summit that China readily welcomes countries that meet the requirements for SCO membership.
The SCO comprises six member states, five observers and three dialogue partners. Two of the observers, Pakistan and Iran, have applied for membership, and India has expressed its intention to do so but has not yet submitted a formal application.
A statement from Pakistan's Foreign Ministry issued on the eve of the summit said, "It is a matter of satisfaction that Pakistan's request for membership of the SCO is under active consideration."
Tajik President Emomali Rahmon, who chaired the summit, said at a news conference the two approved documents "usher in a new chapter" for development of the SCO, benefiting all the countries concerned and their peoples.
Feng Yujun, director of the Institute of Russian Studies at the China Institute of Contemporary International Relations, said approval of the documents provides a firm legislative basis for expanding the organization and admitting new members.
"This will also be a driving force for the future evolvement of the SCO and will facilitate domestic growth and security among new members," Feng said.
Yang Cheng, deputy director of the Center for Russian Studies at East China Normal University, said the SCO's development in the past 10 years has led to it assessing how it can expand its strategic influence.
"Since 2001, the number of member states has remained the same, while the number of observer states and dialogue partners has increased," Yang said.
The SCO was founded at a summit in Shanghai in 2001 by the presidents of Russia, China, Kyrgyzstan, Kazakhstan, Tajikistan and Uzbekistan. It now has Afghanistan, India, Iran, Mongolia and Pakistan as observers and Belarus, Turkey and Sri Lanka as dialogue partners. India, Iran and Pakistan were admitted as observers at the 2005 summit in Astana, Kazakhstan.
An annual report on the SCO compiled by the Chinese Academy of Social Sciences said, "Pakistan and India are in the best position to join the organization."
However, membership for Iran seems unlikely in the short term because of international sanctions imposed on the country over its nuclear ambitions, the report said.
Guan Guihai, associate dean of the School of International Studies at Peking University, said the membership applications serve as a vivid illustration of the SCO's increasing influence.
Sun Zhuangzhi, a senior researcher of Central Asian and SCO studies at the Chinese Academy of Social Sciences, said the SCO has adopted an open and prudent attitude toward expanding its membership.
Contact the writer at wujiao@chinadaily.com.cn