China hosts SCO live fire drill
Updated: 2014-08-29 16:03
(Xinhua)
Comments
Print
Mail
Large
Medium
Small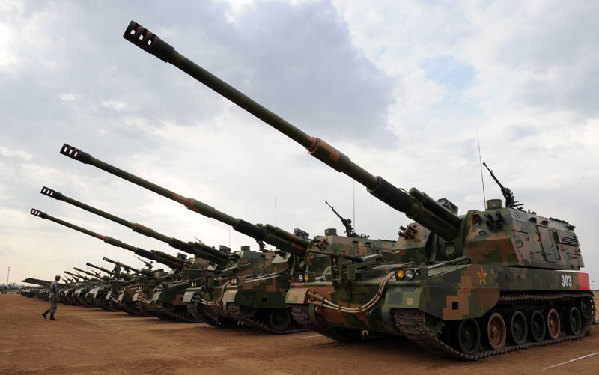 Equipment is displayed during the drill on Tuesday. [Photo/Xinhua]
ZHURIHE, Inner Mongolia - Five Shanghai Cooperation Organization (SCO) member states on Friday carried out a massive live fire drill involving more than 7,000 troops in north China's Inner Mongolia.
Troops from China, Russia, Kazakhstan, Kyrgyzstan and Tajikistan participated in the anti-terrorism drill, including ground and air forces, special operations and airborne troops and others tasked with electronic countermeasures, reconnaissance, mapping and positioning.
Chief of the General Staff of the People's Liberation Army Fang Fenghui, along with his counterparts from Kazakhstan, Kyrgyzstan, Russia, Tajikistan and Uzbekistan, watched the exercise, which started at 10 a.m. at the Zhurihe training base.
Viewers also include representatives from the SCO observer states of Pakistan and Mongolia, and the dialogue partner Sri Lanka, as well as delegations of foreign military attaches from 40 countries.
The exercise scenario involves a separatist organization of more than 2,000 terrorists armed with tanks, missiles and light aircraft. Participants are asked to imagine that the terrorists are entrenched in hilly areas, plotting attacks and a coup.
The SCO will dispatch military forces to put down the insurrection and restore stability at the request of the country's government.