A road map for South Africa's future
Updated: 2013-03-26 08:01
(China Daily)
| | | | | | | | | | | |
| --- | --- | --- | --- | --- | --- | --- | --- | --- | --- | --- |
|   | | Comments() | | Print | | Mail | | Large Medium  Small | 分享按钮 | 0 |
RTMC, a public entity of the Department of Transport, is committed to maintaining safety on South Africa's roads. Photos provided to China Daily
National Infrastructure Plan stimulates growth and jobs across the country
During 2012, the South African government adopted the National Infrastructure Plan as part of the government's continued efforts to transform the economy by laying the foundation for growth, skills development and job creation.
Over the past decade, the country has learnt important lessons from such building programs as the 2010 World Cup soccer stadiums, the King Shaka International Airport, the Medupi Power Station and the Gautrain project, but it is time to take things to a higher level, as Minister of Transport Ben Martins explained.
"It is our responsibility to improve the quality of the road network in the rural areas, which will open up opportunities for further business investment," he said. "We also want to improve and upgrade our rail lines and rolling stock in small towns. We want to implement best practices right across the country. In the context of our relationship with the other BRICS, we can assist them in the areas in which we are strong and have the know-how. There are also many transport infrastructure projects with our neighbors where synergies can be created that will positively impact on the development and prosperity of the southern part of the African continent."
Responsible for road safety, the Road Traffic Management Corporation works to pool resources and provide confidence in the roads network. The agency commenced operations in April 2005 to ensure proper maintenance of the highways and enforce traffic regulations.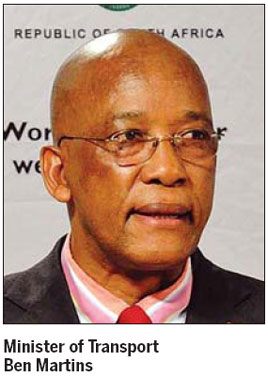 For Collins Phutjane Letsoalo, acting CEO of the RTMC, accident prevention is a priority. "Around 14,000 South Africans die every year on the roads," he said. "Our national network is very well maintained, but our secondary network is not in a good state because of the backlog of infrastructure priorities.
"Every province has its own traffic police, which creates problems from a command point of view so we are going to centralize that by next year. We are also deploying different technologies to monitor the network more efficiently.
"Most poor people live outside the city and need a car. Up to 40 percent of their salary will be spent on transport. We therefore need to intensify public transport corridors and accessibility to these people. We have a lot to learn from the BRICS countries, particularly Brazil, which has overcome social inequality in a relatively short space of time. We are looking to share experiences."
With 2013 marked as "the year of the maritime" in South Africa, the country's nautical interests are being given closer scrutiny.
South Africa's coastline spans 2,798 kilometers and the country is home to six major ports, including Durban, the largest in Africa. Being based at the heart of the BRICS region and a natural gateway to the whole continent, there are ample opportunities for developing a dynamic shipping industry.
As Sobantu Tilayi, COO of the South African Maritime Safety Authority, SAMSA for short, said: "South Africa needs to wake up to the fact that our maritime sector holds the most potential in terms of its economic development. In fact, I will be so bold as to say this will be a precondition to finding a new trajectory in terms of our economic growth. It is more than just location," he said. "An exercise that we carried out to define the sector went over and above traditional logistics. When you look at all the new gas and resources finds in East Africa, there is potential for offshore oil and gas activity here in South Africa.
"We have the best infrastructure in the region, but we must look at this and see how it is supporting the development of the country.
"We must look at this in terms of the potential that exists in offshore oil and gas, tourism and manufacturing. These industries need to be supported via maintenance and new builds. So for us, ports and port infrastructure is critical, but we must also focus on access to all the economic opportunities that lie in our waters and coastline."
According to the SAMSA chief and the industry at large, one of the biggest challenges being faced is control of the logistics value chain.
"All our shipping and the 260 million metric tons of cargo that South Africa trades in is carried by foreign ships. When you take BRICS context and call yourself the gateway to Africa, yet have not addressed this logistical chain issue, this is a problem for us and for the rest of Africa, so we must address that."
Steaming ahead
The organization has already started to rectify these issues. Last year, it held the first ever South African maritime industry conference and divided the industry between ports and logistics.
"Now there are maritime manufacturing, maritime tourism and fisheries, offshore oil and gas and our public sector requirements all requiring support," Tilayi said. "We also held a meeting for African ship registrars to address the issue of control and have set up a center in Cape Town with technologies that can tell us at any given time how many ships are on our coastline and where they are coming from and going to. This has given us an edge in R&D and we have a good opportunity to take the information and use it to our advantage economically."
The discovery of oil and gas in East Africa will impact greatly on South Africa, he said.
"They will need a logistics supply, and we are in an ideal position to offer repairs to oil rigs and ships, and backup support like banks and ICT. We must offer physical locations to industry to allow them to develop their operations. This will create employment. We could offer ourselves as a valuable pit-stop to ships passing through our waters, which means they wouldn't have to carry as much fuel. We must become a greater part of our own resource value chain. We are therefore looking to collaborate with our BRICS counterparts across a whole range of issues."
InFocus provided the story

(China Daily 03/26/2013 page18)
Hot Topics
Scholars from Beijing and Moscow called for emerging economies to make their voice heard more at the G20 summit, as they exchanged views in a telephone conversation.