Canada formally pulls out of Kyoto accord
Updated: 2011-12-13 10:31
| | | | | | | | | | | |
| --- | --- | --- | --- | --- | --- | --- | --- | --- | --- | --- |
|   | | Comments() | | Print | | Mail | | Large Medium  Small | 分享按钮 | 0 |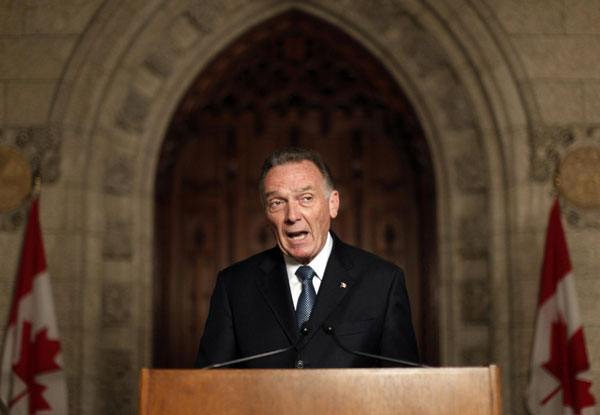 Canadian Environment Minister Peter Kent delivers a statement announcing Canada will formally withdraw from the Kyoto protocol on climate change on Parliament Hill in Ottawa Dec 12, 2011. [Photo/Xinhua] 
OTTAWA - Canadian Environment Minister Peter Kent announced Monday that the country has withdrawn from the Kyoto Protocol, thereby saving about $14 billion in penalties.
Kent blamed the "incompetent Liberal government" of former Prime Minister Jean Chretien for signing the accord without taking action to cut greenhouse gas emissions. Now, Kent said, it is far too late for Canada to meet its Kyoto requirements.
Canada had to inform the United Nations by the end of the year of its decision to leave the Kyoto process, or it would be legally bound to pay the penalty.
"Kyoto for Canada is in the past. As such, we are invoking our legal right to formally withdraw," Kent told reporters in the foyer of the House of Commons.
"It's now clear that Kyoto is not the path forward," he said.
Kent made the announcement about two hours after returning from the Durban negotiations for a new carbon reduction framework. He told reporters he waited until after the Durban conference had ended because he had told a senior UN official that he did not want to disrupt the negotiations in South Africa.
Canada, along with other signatories of the Kyoto Accord, was required to reduce its greenhouse gas emissions to below 1990 levels and provide funding to developing countries to eventually reduce their emissions. Canada ratified the accord in 1997.
The Conservative government, elected in 2006, has promised to cut emissions to 17 percent lower than 2005. These reductions are to be made by 2020. Kent said Canada produces less than two percent of the world's carbon pollution.
New Democratic Party Environment critic Megan Leslie, speaking on behalf of the official opposition in Parliament, condemned Kent's decision.
"What this is really about is the fact that our government is abdicating its international obligations. It's like we're the kid who's failing the class so we have to drop it before that happens, " Leslie said.
Reacting to the Harper government's announcement that Canada will exit from the Kyoto Protocol, Maude Barlow, National Chairperson of the Council of Canadians, denounced the government's decision.
"The Harper government has transformed Canada into a serial laggard on the most pressing issue of our times, addressing climate change, which is severely damaging our international reputation," Barlow said.