'I am myself again' says relaxed LeBron James
Updated: 2011-12-13 17:25
(Agencies)
| | | | | | | | | | | |
| --- | --- | --- | --- | --- | --- | --- | --- | --- | --- | --- |
|   | | Comments() | | Print | | Mail | | Large Medium  Small | 分享按钮 | 0 |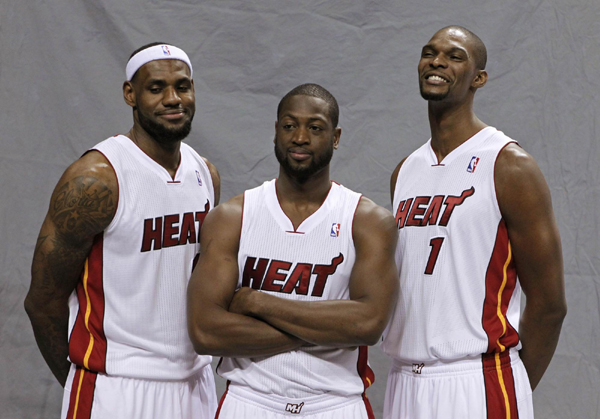 Miami Heat's LeBron James (L), Dwyane Wade (C), and Chris Bosh pose during media day at the team's training camp in Miam, Floridai, Dec 12, 2011. [Photo/Agencies]
MIAMI - LeBron James became the man US sports fans loved to hate when he left Cleveland for the Miami Heat last year and many celebrated when he stumbled in the NBA finals, losing to the Dallas Mavericks.
Prior to the 2010-11 National Basketball Association (NBA) season, James bragged about multiple championships for Miami's 'Big Three' but was heckled after his first attempt to win one with his new team fell short in June.
But this year at the Heat's annual media day in the American Airlines Arena, the two-times NBA Most Valuable Player was not talking about proving critics wrongs or silencing the boos.
With the wrangling of the NBA lockout now over, James looked and sounded relaxed, appearing more at ease with himself than at any time since he left his home state of Ohio for South Florida.
"It was a tough season for myself. If I look at my numbers over the course of the whole season, I played pretty well, but I wasn't who I was, it was a tough transition - coming here, going through what I went through, it was something different. But I will learn from it and I am back to who I am now," James told a news conference on Monday.
"I always had to prove myself. It may have looked like it was easy but it was never easy, knowing where I came from, you had to prove yourself every day growing up where I grew up.
"Last year was one of the first years where I said - 'OK, I'm going to prove everybody wrong' ... I was just so blinded, so out of whack. You try to do so many things that you kind of forget who you are and what got you to that point."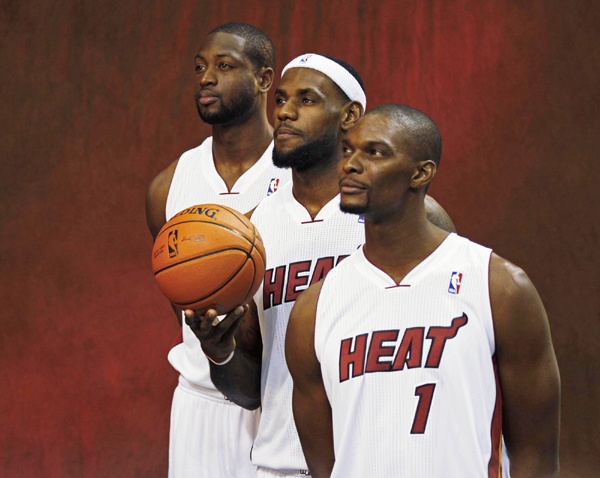 Miami Heat's Dwyane Wade (L), LeBron James (C) and Chris Bosh pose for photographers during media day at the team's training camp in Miami, Florida, Dec 12, 2011. [Photo/Agencies]
James's 'crime' in the eyes of many American sports fans was announcing on a nationally televised show that he was leaving Cleveland, where he never won a title, to join fellow All-Stars Chris Bosh and Dwyane Wade in Miami.
It is a move that several players have sought to replicate in this free agency period but James says he is not bothered by the lack of criticism for those attempted moves.
"It would have bothered me last year, if I would have got criticised for what I did and guys came out and tried to do the same thing and it wasn't. It doesn't bother me anymore," said James, who was taken first overall by Cleveland in the 2003 NBA Draft. "I'm at a good place right now, not too much bothers me."
James took weeks to deal with Miami's loss to Dallas in the 2011 NBA Finals and will have a quick shot at revenge when the 2011-12 season begins as the Heat open their campaign with a road game against the Mavericks on Dec. 25.
"You can never ultimately get over losing a final but I think you have to move on because there is a season now and we are preparing for this one not last year," said James.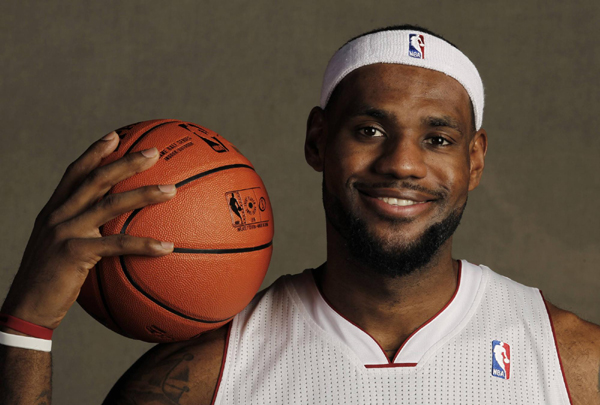 Miami Heat's LeBron James poses during media day at the team's training camp in Miami, Florida, Dec 12, 2011. [Photo/Agencies]