Chill in Florida
Updated: 2011-12-14 07:58
(China Daily)
| | | | | | | | | | | |
| --- | --- | --- | --- | --- | --- | --- | --- | --- | --- | --- |
|   | | Comments() | | Print | | Mail | | Large Medium  Small | 分享按钮 | 0 |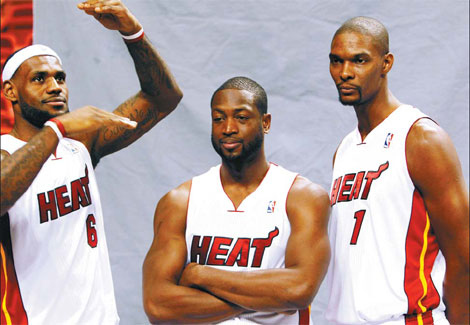 Miami's LeBron James (left) Dwyane Wade (center) and Chris Bosh are dealing with a lot less pressure as they prepare for their second season together. "This year, we can conentrate on just building our team," Bosh said. "We can concentrate on picking up where we left off. I think that's huge for us." [Photo/Agencies]
Last season, the Miami Heat arrived at training camp amid police escorts, an international spotlight and absurd hype. This season, things are different. This season, it's ...
MIAMI - A season ago, things seemed much different for the Miami Heat. In South Florida, the team was celebrated before ever playing a game. In every other NBA market, the Heat was maligned, again before ever playing a game.
There's a sense that is now changing - well, maybe just a little bit.
Drama seems to be the rule these days in many NBA cities, but not Miami.
"I don't think anything can be as bad as it was last year," Heat forward LeBron James said Monday.
For Miami, any change would be a refreshing one, especially if it means basketball can seem like the top priority entering basketball season. It's a far cry from last year's training camp, when all the buzz - and there was a lot of it - around the Heat was about how James and Chris Bosh changed teams to join Dwyane Wade in Miami, whether a so-called "superteam" was good for the NBA and if three stars could get along happily while sharing one ball.
"Look around. You remember how it was last year - it's nothing close," Bosh said. "This year, we can concentrate on just building our team. We can concentrate on picking up where we left off. I think that's huge for us. We know what to expect. There's nothing really surprising us right now and we can just work on focusing to get better."
The team needed a police escort to their annual media day in 2010, with security lurking around just about every hallway inside the University of Miami facility where that annual meet-and-greet session was taking place. Reporters from four continents showed up. Press conferences to start the year were held in a cavernous auditorium.
On Monday, media day was tame by comparison.
"I heard some stories," new Heat center Eddy Curry said. "I thought it'd be a lot worse than this."
Expectations are still high for Miami, of course. Bringing virtually the entire core of last season's Eastern Conference championship-winning club back would figure to put the Heat ahead of some teams who are dealing with roster shakeups, the distraction of potentially moving some superstar-level players, or even simply finding guys to sign to contracts.
So as is not the case in many NBA cities, things seem calm in Miami right now, and that's one of the reasons why oddsmakers in Las Vegas list the Heat as favorites to win the 2012 title.
"We're still going to have a lot of attention, of course, and a lot of high expectations placed on this team because of the fact that we have three star players," said Heat forward Juwan Howard, who's entering his 18th season. "But last year, that was a different element. Everyone wanted to see how the Miami Heat was going to mesh. Was chemistry going to be a problem here, was there going to be drama here? It all brought us together as a unit. Family became even tighter."
James has said in recent weeks that he is going to change his approach as well, after the experience of last season.
It stung him that fans in Cleveland burned his jerseys, national commentators lined up to attack him more than he felt was necessary, that the reaction everywhere Miami played last season was downright hostile - all because he exercised his right as a free agent to sign with a new club. Playing the "villain" role weighed on him too much, he said, and hurt him on the floor.
"I'm at a good place right now," James said Monday. "Not too much bothers me anymore."
That doesn't mean he's not as driven.
If anything, the Heat think James is more title-starved this year than ever.
"He'll be as committed as he's ever been and that's all we're looking for, for him to be committed to the team, committed to the organization, committed to what our goal is and to be a leader of what we're trying to do," Heat coach Erik Spoelstra said of James. "He will be. All I had to do was see what he was doing this summer to see that his actions were backing up his words. And he'll be ready."
The perceptions of the Heat notwithstanding, there is another reason why this camp seems different for Miami, and it's a significant reason at that.
Wade, James and Bosh know better how to play with each other now, how they best fit inside the Heat system. A year ago, that was a process, which became one of Spoelstra's buzzwords. On Monday, James said Spoelstra hasn't used the word "process" even once around the team in this year's training camp.
"Guys know each other a little more, just a little bit more familiarity," Wade said. "Last year was just about seeing - seeing what can happen. Obviously time helps everyone. It's only our second year together. We feel obviously more confident coming into this training camp than we did the last."
Associated Press