IIF: Take-up of Greek debt discount 90 pct
Updated: 2011-10-30 07:39
(Agencies)
| | | | | | | | | | | |
| --- | --- | --- | --- | --- | --- | --- | --- | --- | --- | --- |
|   | | Comments() | | Print | | Mail | | Large Medium  Small | 分享按钮 | 0 |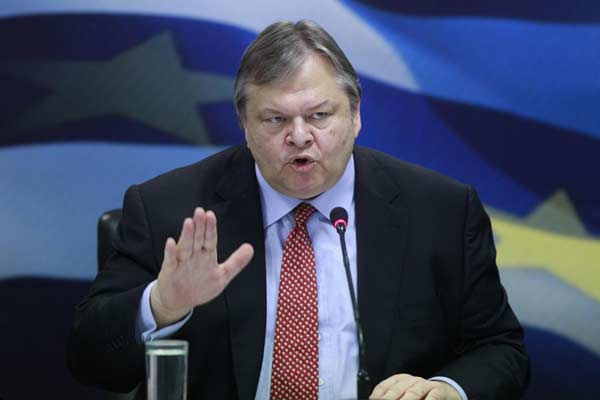 Greek Finance Minister Evangelos Venizelos addresses journalists during a news conference in Athens October 27, 2011. Greece will capitalise on an EU agreement to slash its debt by pressing ahead with structural economic reforms, Venizelos said on Thursday. [Photo/Agencies]
FRANKFURT  - At least nine out 10 banks are likely to accept a 50 percent discount on their Greek debt holdings, the managing director of the Institute of International Finance (IIF) was quoted as saying by a German newspaper.
Euro zone leaders struck a deal with private banks and insurers on Thursday for them to accept a voluntary 50 percent loss on Greek government bonds under a plan to lower the country's debt and try to contain the two-year-old euro zone crisis.  
"I am very optimistic that more than 90 percent of banks will participate," Charles Dallara, who led negotiations with EU officials on behalf of banks and private sector bond holders, was quoted as saying by German weekly paper Welt am Sonntag.
On Thursday, he had said he saw the take-up would likely be "very, very high".  
He said it was not yet clear what kind of sacrifices other bondholders such as insurers and funds were willing to accept.
"Some persuasion is still needed there," Dallara said.
There are 206 billion euros of Greek government bonds in private sector hands. The insurance industry held 24 billion euros of Greek sovereign debt late last year, but their exposure is less clear than banks, who were forced to reveal detailed information on holdings as part of a pan-European stress test.
As part of the deal -- reached after more than eight hours of hard-nosed negotiations between bankers, heads of state and the International Monetary Fund -- the euro zone will offer 30 billion euros in "credit enhancements" or sweeteners to the private sector to get them on board.
"We did not assume at first that we would meet with the heads of state. But the guarantees that were being discussed were not sufficient to allow us to agree to a 50 percent discount," Dallara said.
"(German Chancellor) Angela Merkel intervened and raised the guarantees from 20 to 30 billion euros. That made the difference," he said.
The specifics of these sweeteners still needed to be negotiated. The aim is to complete negotiations on the package by the end of the year, so Greece has a full, second financial aid programme in place by 2012.  
He said he welcomed the planned 106 billion euro ($150.3 billion) recapitalisation of the banking sector that is also part of the agreement by euro zone leaders.  
That would help "regain trust", Dallara said but also warned of a possible credit squeeze.
"We always warned that you cannot make the capital requirements too big in this difficult situation. Of course the banks will do everything to prevent a credit squeeze. But we must be careful." ($1 = 0.705 Euros)