Gates to urge G20 not turn backs on poor
Updated: 2011-10-25 09:45
(Agencies)
| | | | | | | | | | | |
| --- | --- | --- | --- | --- | --- | --- | --- | --- | --- | --- |
|   | | Comments() | | Print | | Mail | | Large Medium  Small | 分享按钮 | 0 |
WASHINGTON - Billionaire philanthropist Bill Gates said on Monday it was critical that rich donors continue to fund health and agriculture projects in developing countries despite budget cuts in the United States and Europe.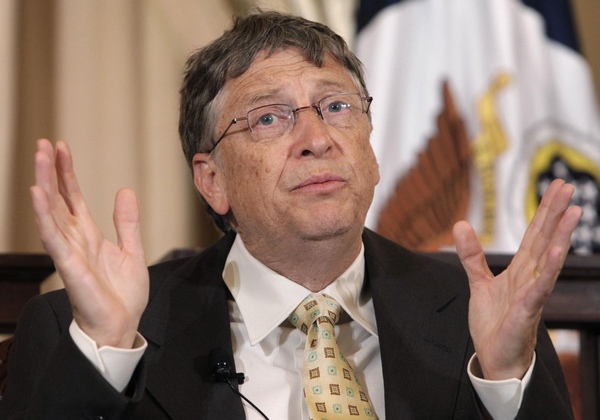 Bill Gates speaks at a presentation of the George McGovern Leadership Award, in recognition of the leadership in addressing food security among small scale farmers, at the State Department in Washington October 24, 2011. [Photo/Agencies] 
In an interview with Reuters, Gates said he would tell G20 leaders at a summit in France next month not to turn their backs on funding development projects in poor countries despite tough times at home.
He said there was ample evidence that agricultural and health programs in developing countries made a big difference in the livelihoods of the poor and boosted economic stability.
"One thing with agriculture is once you get a boot strap it is a capitalistic market," Gates said. "If you help a farmer with productivity and show them these new tools have positive returns, then it is something you can leave and you don't have to keep funding them."
A global food price crisis in 2008 highlighted years of chronic underinvestment in agriculture in developing countries. Costlier food and more price volatility have further weighed on the poor, increasing malnutrition and hunger.
Despite 2009 promises by the world's rich nations to increase funding for agricultural in developing countries, Gates said just half of the promised funds had been received.
A sovereign debt crisis gripping Europe and cut in overseas spending in the United States to address budget shortfalls have  raised concerns of major scaling back of assistance to the world's poorest countries.
Gates and Howard Buffett, the farmer-conservationist son of investor Warren Buffett, were honored on Monday by the UN's World Food Program for their efforts in helping farmer overcome hunger and poverty. Their Purchase for Progress program has helped small-scale farmers supply UN food programs in Africa and also sell crops to private companies.
The Gates Foundation has also funded initiatives to develop drought-resistant maize and new flood-tolerant rice varieties in India.
Report on financing
French President Nicolas Sarkozy asked Gates earlier this year to look into innovative financing that could be used to fund aid to poor countries. Gates will submit the final report to the G20 meeting in Cannes, France, on Nov. 2-3.
He said while rising economic powers such as China and Brazil were playing a greater role in helping poorer countries and sharing knowledge on agriculture, traditional aid remained critical in funding development programs.
"It is absolutely critical that every meeting we talk to people about meeting their aid commitments, and I'm sure the dialogue at the G20 including my report will be no exception to that," Gates said, adding: "The rich countries still have the bulk of the resources."
An early draft of Gates' report obtained by Reuters in September proposed taxing financial transactions, tobacco, and shipping and aviation fuels to raise development aid.
"Clearly it is up to the G20 countries," Gates said. "...But I'm hopeful it will be more than worth the time I put into it but I'll have to see," he added.
Gates indicated that Mexico would take up the issue when it takes over from France as next G20 chair.
In remarks while accepting the World Food Program's George McGovern Leadership Award, Gates said the famine and drought in the Horn of Africa should be a wake-up call for the international community.
"It is unconscionable for a famine of this magnitude to be happening in 2011. The world has the knowledge, tools, and resources to help the world's poorest overcome hunger and extreme poverty," he told the ceremony.