NASA unveils plan for giant deep space rocket
Updated: 2011-09-15 08:09
(Agencies)
| | | | | | | | | | | |
| --- | --- | --- | --- | --- | --- | --- | --- | --- | --- | --- |
|   | | Comments() | | Print | | Mail | | Large Medium  Small | 分享按钮 | 0 |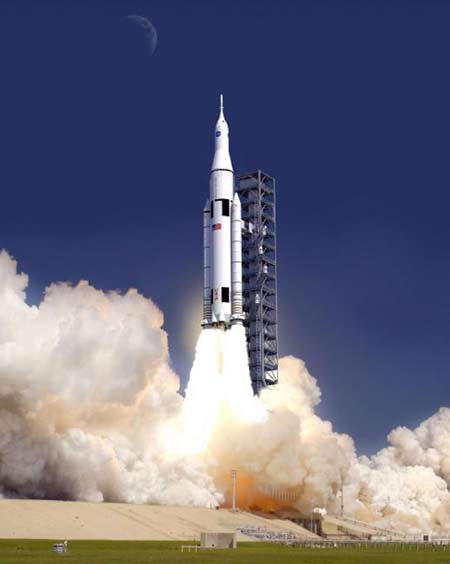 An artist's rendering of a deep space rocket named the Space Launch System, or SLS, obtained by Reuters from NASA on September 14, 2011, shows it lifting off from a launch pad. [Photo/Agencies]
CAPE CANAVERAL, Fla. - NASA unveiled plans on Wednesday for a mammoth deep-space rocket to carry astronauts to the moon, Mars and other destinations beyond the International Space Station.
The rocket project would cost $10 billion through 2017, when the first test flight of the Space Launch System is scheduled to take place from the Kennedy Space Center in Florida.
Another $6 billion is allotted to building the Orion deep-space crew capsule, a holdover from the defunct Constellation moon exploration initiative canceled by the Obama administration. NASA already has spent $5 billion on Orion.
In addition, $2 billion would be spent to refurbish NASA's Florida spaceport to accommodate the new rocket.
The new rocket is based on the space shuttle's liquid hydrogen and liquid oxygen engines and fuel tanks, coupled initially with upgraded solid-fuel shuttle booster rockets that also were developed under Constellation.
NASA plans a competition that could replace the Alliant Techsystems Inc booster rockets with liquid-fuel rockets.
The rocket would be more powerful than the Apollo-era Saturn booster that carried crews and equipment to the moon between 1969 and 1972.
"This is a tremendous step forward and really puts us in a position to go forward with exploration," NASA Associate Administrator Bill Gerstenmaier told reporters in a conference call.
The announcement follows a year-long tussle with Congress over the project's cost, scope and technical parameters. The Obama administration withheld its plans while it obtained an independent cost estimate for the Space Launch System.
"We have been frustrated by the time delays," said Senator Kay Bailey Hutchison, a Texas Republican who serves on a NASA oversight committee.
"The numbers are within the authorization levels, we are now moving forward as a team for America," she said. "Sometimes the making of the sausage isn't pretty but we are at the right end, we hope."
Compared with the now-retired space shuttle, which could carry about 50,000 pounds (22,500 kg) to an orbit about 300 miles (480 km) from Earth, the new booster is intended to lift as much as 140,000 pounds (63,000 kg) of cargo.
Future versions would have nearly twice the lift capacity for missions into deep space.
Obama has called for a human expedition to an asteroid by 2025 and a journey to Mars in the 2030s.