Chirac corruption trial opens in Paris
Updated: 2011-09-05 21:13
(Xinhua)
| | | | | | | | | | | |
| --- | --- | --- | --- | --- | --- | --- | --- | --- | --- | --- |
|   | | Comments() | | Print | | Mail | | Large Medium  Small | 分享按钮 | 0 |
PARIS - The trial to decide the reputation of former French President Jacques Chirac kicks off Monday with the 78-year-old Gaulist defaulted on health problems.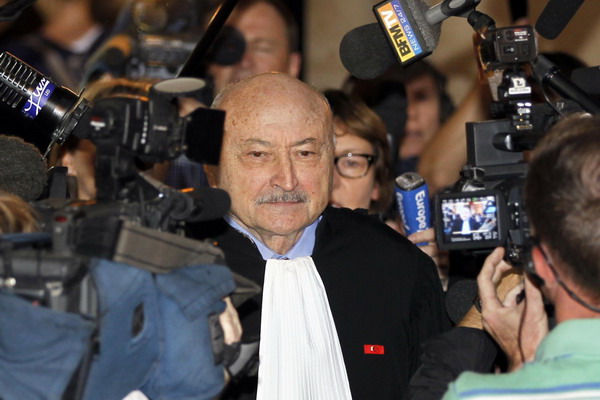 Georges Kiejman (C), lawyer of former France's President Jacques Chirac, is surrounded by the media as he arrives for the first day of the Chirac's trial at Paris court September 5, 2011. A long-delayed trial into misuse of public funds by former French president Jacques Chirac opens on Monday, but a senior neurologist has advised that the frail 78-year-old is not mentally up to attending hearings. [Photo/Agencies]
After 12 years as head of state, two terms as prime minister and 18 years as mayor of Paris, Chirac is dogged by a corruption-related allegation dated back to 2007. The trial started around 13:30 Monday in Paris and would last to September 23.
Chirac, who said he wanted the trial to proceed to its end and himself to be tried like any other French citizen, is represented by his lawyers. The lawyers have submitted a medical report to the court diagnosing Chirac suffering "anosognosia", a brain disorder making people forget easily.
Chirac became the first French president to be tried on corruption allegations. The charges include using the city payroll to pay salaries to aides and counsellors who were actually his partisans having no contribution to the paying jobs during his mandate of Paris mayor from 1977 to 1995. The beneficiaries were seven staff at his Gaullist RPR party, and another 21 friends and allies linked to council jobs.
Investigating magistrates opened an inquiry into Chirac's running of the mayor's office in 1999 after receiving a complaint alleging power abuses, including graft, illegal party financing and destruction of evidence. The trial has been delayed several times on different reasons with the latest postponement in March on technical reasons.
If found guilty, the ex-president will face up to 10 years in jail and a fine of 150,000 euros ($106,040) on charges including embezzlement and breach of trust. The case also involves nine other defendants. The current French foreign minister Alain Juppe, who received a suspended prison sentence in 2004 over the case, agreed to appear as a witness.
Monday morning, Juppe told local media that he felt "sad" to know Chirac's health deteriorating but he hadn't seen the ex-president for over three months.
French public opinion is divided on the issue, according to local survey. Some said they feel sorry for the old president who is aged and fragile while others said his status and health conditions should not spare him from justice.