Battered state vows to solve Mexican security woes
Updated: 2011-08-29 14:12
(Agencies)
| | | | | | | | | | | |
| --- | --- | --- | --- | --- | --- | --- | --- | --- | --- | --- |
|   | | Comments() | | Print | | Mail | | Large Medium  Small | 分享按钮 | 0 |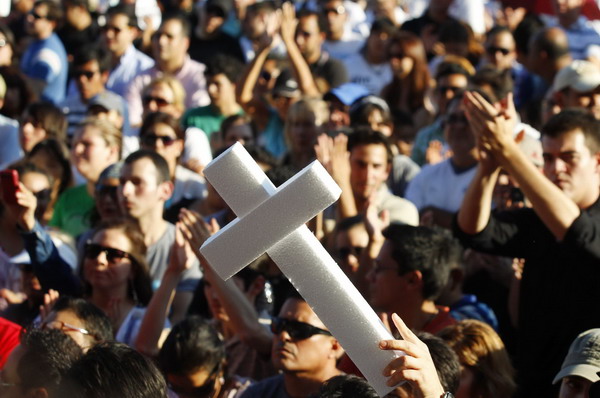 A man holds up a white cross during a protest against violence in Monterrey August 28, 2011. President Felipe Calderon declared three days of mourning after armed men torched a casino on Thursday, killing at least 52 people, in Monterrey, a wealthy city that increasingly has fallen prey to the ravages of drug cartels. [Photo/Agencies] 
MONTERREY, Mexico - Despite suffering one of the worst attacks on civilians in Mexico for years, the state of Nuevo Leon is undaunted because it believes a radical police overhaul will soon start winning the drug war.
President Felipe Calderon declared three days of mourning after at least 52 people died on Thursday in an arson attack on a casino in Nuevo Leon's capital Monterrey, a wealthy city that increasingly has fallen prey to the ravages of drug cartels.
Hundreds of protesters staged a demonstration outside government buildings in Monterrey on Sunday, calling on governor Rodrigo Medina to resign.
Local media reported that two people had been arrested in connection with the attack. State and federal authorities could not immediately be reached for confirmation.
In an interview with Reuters, Nuevo Leon Interior Minister Javier Trevino said the state had a plan to beat organized crime - starting with getting rid of half the police force, much of which had been corrupted by money from cartels.
"There are some municipalities here that used to have 800 (police officers) and now they have 80. Why? Because we started cleaning up and firing people and putting them in jail," Trevino said late on Saturday. "Then we started from scratch."
In 2009, when Medina became governor of Nuevo Leon, one of Mexico's richest states, the municipal and state police numbered around 8,000, said Trevino.
Today that total has fallen to around 3,500, but Nuevo Leon aims to rebuild the force and raise the number of officers to 14,000 by the time Medina's term ends in 2015.
Still, rooting out corruption in the police has taken time, and the past two years have seen a sharp rise in drug-related killings in Nuevo Leon, notably in Monterrey, which was once seen as a role model for Latin American development.
Many locals blame Medina for the jump in fatalities, and organizers said Sunday's protest was the biggest to date against the governor.
"Impunity and crime have just increased under him," local businessman Juan Romo said, after joining in shouts of "Medina, out, Medina out!"
The situation in Nuevo Leon has coincided with a surge in violence across Mexico since Calderon sent in the army to crush the cartels when he took office in December 2006.
In response to Thursday's attack, Medina ordered a probe into local casinos, saying 12 in Monterrey were illegal and that no new licenses would be issued in the state.
Better pay
Trevino insisted the state government was unfazed by the latest setback and that Nuevo Leon was ready to start putting its money where its mouth is on better policing.
From 2011, minimum salaries for police officers have risen to 14,000 pesos ($1,120) from 9,000 pesos a month, he said.
"If you go and see other states it'll be around 6,000 or 7,000 pesos," Trevino added. "Plus we're paying benefits of 1 million pesos on (life) insurance."
Local businesses and universities have also been brought on board to try and help make Monterrey's streets safe again.
Nuevo Leon's overall strategy, which includes stepping up coordination between federal and state authorities, judicial reform and investment in social programs, could serve as an example for the rest of Mexico, Trevino said.
"It's very ambitious but it's the only way out. You're not going to solve the security problem with bullets alone," he said.
Hot Topics
The European Central Bank (ECB) held a conference call late on Sunday ahead of the market opening, pledging the ECB will step in to buy eurozone bonds with efforts to forestall the euro zone's debt crisis from spreading.