UK says must tackle social problems after riots
Updated: 2011-08-14 10:34
(Agencies)
| | | | | | | | | | | |
| --- | --- | --- | --- | --- | --- | --- | --- | --- | --- | --- |
|   | | Comments() | | Print | | Mail | | Large Medium  Small | 分享按钮 | 0 |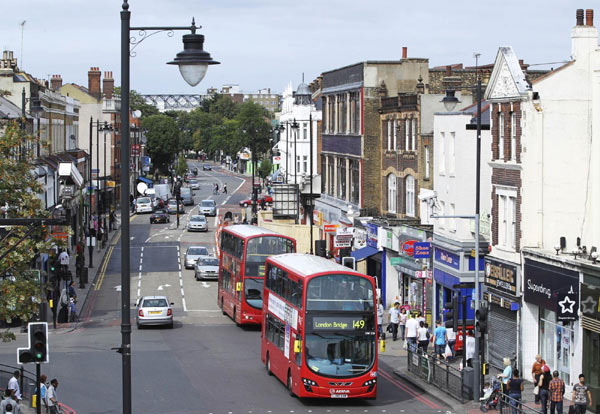 Buses drive along Tottenham High Road on the first day the street had been opened, following riots and looting one week ago in Northeast London, August 13, 2011. [Photo/Agencies]
LONDON - Britain needs to tackle deep-seated social problems following riots and looting in English cities this week, the center-right government said on Saturday, and a US street crime expert it has brought in said arrests alone would not solve the problem.
"There are communities that have just been left behind by the rest of the country. There are communities that are cut-off from the economic life-blood of the rest of the country," Finance Minister George Osborne said.
Prime Minister David Cameron, criticized by some in his Conservative party as being too liberal on crime and punishment, has taken a hard line on rioting in statements this week after returning from his summer holiday and recalling parliament.
He has also come under attack for austerity measures that his government is introducing to tackle a huge debt burden.
Osborne said throwing money at the issue was not the answer and the government would press on with deep cuts to the numbers of police, who have been criticized by Cameron for their handling of the riots.
The Conservative mayor of London, Boris Johnson, has said the riots, which broke out a week ago after a demonstration against the police shooting of a suspect, weakened the case for those cuts.
Cameron has said political and economic grievances had little to do with days of looting and violence in which five people were killed, calling it "criminality pure and simple" and saying gang violence lay at its heart.
He enlisted US street crime expert William Bratton on Friday to advise the government on handling it.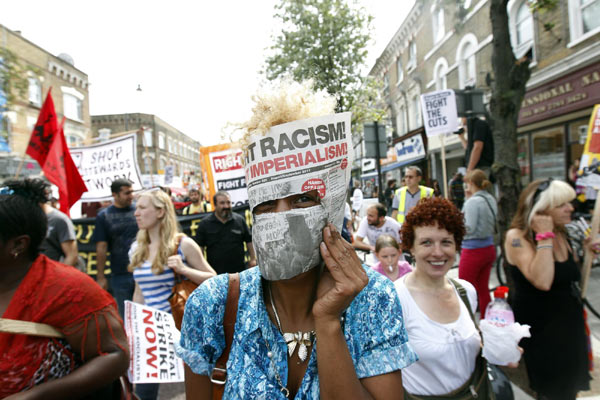 Demonstrators calling for more support for youngsters living in grim and violent housing estates march in Northeast London, August 13, 2011. [Photo/Agencies]
Bratton, credited with curbing street crime as police chief in New York, Los Angeles and Boston, said he would offer advice based on his experience tackling gangs.
"You can't arrest your way out of the problem," he told US broadcaster ABC on Saturday. "Arrest is certainly appropriate for the most violent, the incorrigible, but so much of it can be addressed in other ways and it's not just a police issue, it is in fact a societal issue."
Cities were largely quiet on Friday and Saturday. British police flooded the streets again to ensure weekend drinking does not reignite the rioting that shocked Britons and sullied the country's image a year before it hosts the Olympic Games.
More than 1,200 people have been arrested in connection with violence disorder and looting and hundreds have been charged. Police have set up screens in city centers showing pictures of suspects and plan to display them at soccer matches on Saturday.
Hot Topics
The European Central Bank (ECB) held a conference call late on Sunday ahead of the market opening, pledging the ECB will step in to buy eurozone bonds with efforts to forestall the euro zone's debt crisis from spreading.