Move will not hurt China ties, analysts say
BEIJING - An opposition coalition in Kyrgyzstan proclaimed a new interim government on Thursday after clashes left dozens dead in the Central Asian country.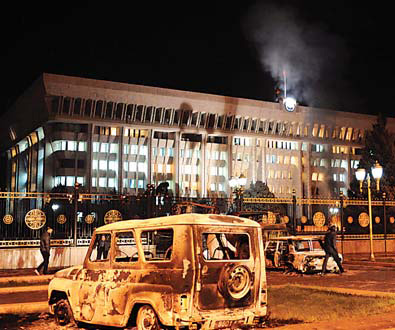 Burnt cars lie on the street in Bishkek, capital of Kyrgyzstan, on Thursday. An opposition coalition said it has formed an interim government that will rule the Central Asian nation for six months. [Sha Tida/Xinhua] 
Opposition leader Roza Otunbayeva, a former foreign minister, said parliament had been dissolved and urged President Kurmanbek Bakiyev, who has fled the capital, to resign.
The new government said it will rule until elections are held in six months' time.
Related readings:


 China hopes for stability in Kyrgyzstan


 Opposition says it leads Kyrgyzstan after uprising

 Protesters, police clash in Kyrgyzstan, 17 killed


 Anti-govt protests sweep Kyrgyzstan, 100 said dead

The violent clashes were reportedly sparked by discontent over corruption, nepotism and rising prices in a nation where one-third of the 5.3 million population live below the poverty line. Bakiyev fled Bishkek to Osh, a town in southern Kyrgyzstan, to seek support there.
The Kyrgyzstan Health Ministry said 68 people were killed and 400 people hospitalized in nationwide clashes on Wednesday. The opposition said at least 100 people were killed.
There has been no report about deaths or injuries of any Chinese people, but a 5-story Chinese shopping mall was looted before being burnt down.
Up to 500 protesters rushed into the building, which also has a karaoke bar, restaurant and hotel, at 1:30 am on Wednesday, said He Chengyu, the 42-year-old owner of the Guoying mall.
Protesters set the building located in Bishkek's city center on fire at 5:30 am. The blaze was put out two hours later, He told China Daily on the phone.
He said the total loss could reach $4 million for all 26 Chinese businesses in the mall, which sells groceries and furniture.
Beijing said on Thursday it "is deeply concerned" about the situation and hopes the country will restore peace soon and maintain stability.
"China hopes issues will be settled in a lawful way," Foreign Ministry spokeswoman Jiang Yu told a regular briefing.
Chinese analysts said the chaos in the poor but strategically important Central Asian state will not hurt its ties with China or the regional anti-terror drive.
The latest clashes will affect trade relations in the short term, but bilateral ties will not be affected in the long run, analysts said.
Xu Xiaotian, an expert on Central Asian studies at the China Institute of Contemporary International Relations, said "no matter which party is in power, it will value China-Kyrgyzstan relations".
"But it may temporarily affect some of China's projects in this region, such as large projects in power and mining," Xu said.
China and Kyrgyzstan share a 1,100-km land border. Trade volume hit $9.3 billion in 2008, compared to $355 million in 1992, when they established diplomatic ties.
Analysts said the change in government is unlikely to adversely affect the anti-terror effort by the Shanghai Cooperation Organization, which groups China, Kyrgyzstan, Kazakhstan, Uzbekistan, Tajikistan, and Russia. Afghanistan and Pakistan are both observers of the organization.
"Its geographically strategic location means Kyrgyzstan needs to strike a balance between great powers. It doesn't want to offend Russia or the US and it wants to maintain friendship with China," said Dong Manyuan, an anti-terror expert at the China Institute of International Studies (CIIS).
Wu Hongwei, an analyst at the Institute of Russian, East European and Central Asian Studies of the Chinese Academy of Social Sciences, said Bishkek's surrounding countries have "relatively good crisis prevention mechanism and strong government".
"So the chaos in Kyrgyzstan will not affect them much," Wu said.
But the unrest seems to pose a potential threat to Manas, a US military base used to supply troops in Afghanistan, The New York Times reported.
Opposition leaders were angered last spring when the Obama administration courted Bakiyev in a successful attempt to retain rights to Manas.
Russia had offered Bakiyev a sizable amount in new aid, which the US interpreted as a move to persuade him to close the base to limit the US military presence in Russia's sphere of influence.
After vowing to evict the Americans last year, Bakiyev reversed course once the US agreed to pay a much higher rent for the base, the newspaper reported.
A US official said late on Wednesday that flights into the base at Manas had been suspended. Lt. Cmdr. Bill Speaks, a spokesman for the US Central Command, said some troops and equipment scheduled to transit from Manas to Afghanistan were likely to be delayed and the military was preparing to use other routes.
Paul Quinn-Judge, Central Asia project director for the International Crisis Group, said that opposition politicians will ultimately decide to permit the base, though not before giving the US a "hard time". "My gut feeling is that it can be smoothed over," he said.
CIIS expert Dong Manyuan said the new government's most urgent challenge is to improve the economy, which means the military base issue will not be dealt with in a short time.
Associated Press and Reuters contributed to the story.