While black, gray autos jam roads, brighter tones grow more popular
BEIJING: After wrestling over plans to buy a car for nearly a year, Stella Chen finally selected a Mini Cooper Cheer, and not the car her friends suggested, a Volkswagen Golf GTI.
Why the Mini? Because she liked the color.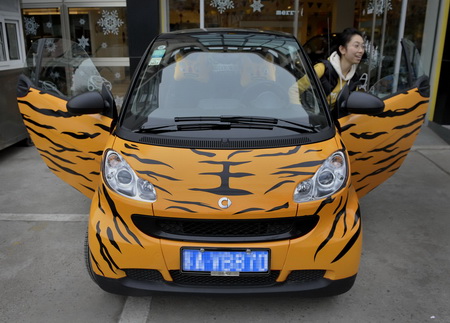 A Benz SMART car with a tiger pattern at an auto dealership in Nanjing, Jiangsu province. China Fashion and Color Association predicts brighter colors like orange will be the new fashion trend in this year's car market. [An Xin / China Daily]
"I know that there are many factors why people choose a specific car, however, I have to admit that color was key to me in making the final decision," said Chen.
And even though the 28-year-old Beijing lawyer believes the Golf GTI offers much better driving performance than the Mini, nevertheless, she chose the Mini for its color - yellow. "If Volkswagen would have had a yellow GTI on the lot, I would bought one on the spot."
Chen's case is far from the exception in today's domestic auto market.
"For some young drivers - especially women - the car's external appearance is more important than the technological equipment on board," said Hui Yumei, an auto analyst with Sinotrust, an industry research company. "They want to show off their personalities through the selection of a distinct color."
Related readings:


 Continued driving restriction upsets city's car owners


 German luxury car sales boom in China


 BYD hopes to spark sales of electric car


 Is China about to be the global centre of car industry?
"That attitude is the result of (an ongoing) transformation of Chinese car buyers' consumption habits since the car-buying boom started last year," she told China Daily.
During the last three years, local car buyers have become younger and the percentage of women owning cars has increased. More importantly, cars are no longer an out-of-reach luxury for many city dwellers.
"These changes have brought a rainbow of colors to traffic on the roads in China today," said Hui.
Previously, the norm for Chinese car buyers was to choose more conservative and less conspicuous colors like black, gray, silver and blue, which were primarily for official or business use," said Hui.
Now it's more about standing out."Chinese consumers now want to distinguish their private cars by selecting brighter colors."