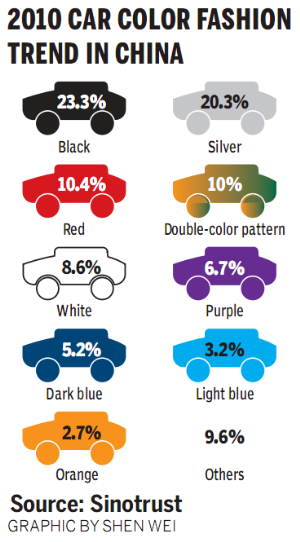 According to a survey conducted by a US-based color research firm, the average person takes 7 seconds to formulate their first impression of a product, and color makes up 67 percent of that decision-making process.
Another report, released by Beijing-based China Fashion and Color Association on 2010 car color and fashion trends, found 43.2 percent of Chinese consumers will change their buying strategy if the target brand does not offer the color they prefer.
"A successful color scheme can add additional 15 to 30 percent to the value of a car," said Liang Yong, chairman of the China Color and Fashion Association. "Although there is yet to be a mature system of color design in China's automobile industry, I believe in the near future, as private auto consumption becomes more mainstream, color will be a very important factor automakers have to pay attention to win market share."
Last year, red proved very popular in auto showrooms as it represents good luck and prosperity according to Chinese tradition.
In 2009, red cars made up 9 percent of all new vehicle registrations, up from 5 percent in 2008, making it the fastest growing color choice.
At one Shanghai GM dealership in Beijing, 30 percent of new Buick Regals sold last year were red. "Customers are willing to wait for several months for a red car," said a salesman that declined to be identified.
Over at Chery Automobile Co, red versions of one popular model, the QQ mini, account for more than 30 percent of the State-owned car producer's small vehicle sales.
Related readings:


 Continued driving restriction upsets city's car owners


 German luxury car sales boom in China


 BYD hopes to spark sales of electric car


 Is China about to be the global centre of car industry?
Other car makers too are aware of a car color's impact on consumers. "Color has been a key factor in car sales. So when designing and developing a new model, we will select the color early on according to consumer preferences and current fashion trends," said Chen Binbo, vice-director of Dongfeng Nissan's marketing department.
According to the China Fashion and Color Association's report, traditional colors like black, silver, dark blue, blue, white, dark red and red will remain the dominant car colors, while brighter colors like orange will be the new fashion trend in this year's car market.
"Chinese people prefer medium-sized sedans in silver or gray, larger luxury sedans in black and small economy or sporty cars in orange, yellow, green and purple," said China Color's Liang.