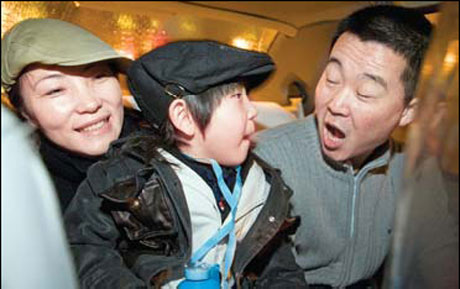 Xiao Bao and his parents take a taxi to a restaurant for dinner in Shanghai on March 8. [Jonathan Browning/For China Daily]
Four-year-old Wang Yiming, better known as Xiao Bao, may be the youngest-ever impersonator of Michael Jackson. The boy performed on The Ellen Show, a US TV talk show hosted by comedian Ellen DeGeneres, in February. The moment he met DeGeneres, he gave her a big hug and a lollipop. Through an interpreter, he said he brought the lollipop from Beijing.
Then in full Michael Jackson attire, he danced to the music of Dangerous. When Ellen promised him a tour of Disneyland, he immediately imitated Donald Duck, which amused the audience.
His dancing is hardly an accurate imitation of Jackson but the naivete that only a 4-year-old contains and conveys won applause and screaming.
Xiao Bao is familiar with various stages, as he has been a litt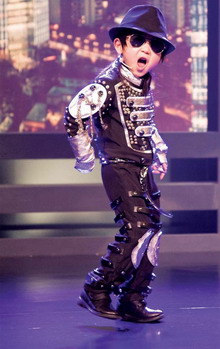 Xiao Bao performs on Asia Uncut, one of Asia's largest English-language talk shows, in Shanghai on Jan 29. [Jonathan Browning/For China Daily]
le star in dozens of shows since his debut at the age of 2. Hip-pop dancing is his favorite. An online video of him and his teacher dancing hip-pop together brought him to The Ellen Show.
Unlike most child stars, Xiao Bao did not learn dancing just to perform.
Xiao Bao was born prematurely and at birth, weighed just a little more than 1 kg, according to his mother, Bian Aiqing. Doctors thus suggested Bian play music for his mental development and engage him in physical activities.
When Xiao Bao was about 1 year old, Bian found he liked moving his body to music beats, even to the ringing of cellphones, and he seemed to have strong rhythm.
Later, Bian took then 2-year-old Xiao Bao to the Baby Show, a TV program in Hebei province where they lived. It was only a 10-minute show of dancing with adult dancers, but Xiao Bao's performance impressed the choreographer, who suggested he take some courses to nurture his talent.
Bian quit her photographer job and took Xiao Bao to a dancing studio in Beijing. In the studio he learned street dance and was introduced to Michael Jackson's music. His imitation of Jackson's video often entertained his elder classmates and teachers. Some teachers recommended him to 6+1, a popular talent show of broadcaster CCTV. He went and became a star overnight.
"We took him to the school and shows because he likes dancing. He really enjoys it," Bian said. "He is equally devoted to the training as his adult schoolmates and never complains. When you see him dancing, you will find how cute and happy he is."
Bian is happy that Xiao Bao is still a boy, and not a child star who has begun thinking and acting like an adult.
"When he knew he would go to America, he was thrilled," Bian told China Daily. "He told everybody that 'Daddy is taking me to Uncle X.' X is the only English letter he knows and he knows that American people speak English."
Bian avoids contest shows now, because she does not want Xiao Bao to be under pressure.
"Every time he is on a show, we tell him, 'you just go to play. It will be fun,'" she said.
The only contest show they took part in recently is Super Family, because the winner may perform at the opening ceremony of the World Expo in Shanghai. Bian thought it would be a good life experience for Xiao Bao if he won. However, the boy was eliminated in an early round.
"Off stage, he asked me, 'Mom, did I lose?' I told him, 'you did not lose anything. You are the best,'" Bian said. "And he was happy immediately."
But Bian knows that now Xiao Bao is not leading a child's normal life. "Every day, he is surrounded by adults who tell him how cute he is. He has no friends his own age."
Therefore she is sending Xiao Bao to kindergarten soon and will let him perform only in selected shows.
The dancing courses will continue, however, because they make him really happy, his mother said.
"If he likes being a singer or dancer, we will support him," she said. "But education from elementary school to college is important, because without it, even if he became a star, he would be forgotten soon."
China Daily