Western media often use 'distorted, biased' information
BEIJING - Seeing is believing.
That is the advice Pana Janviroj, executive director of the Asia News Network (ANN), has for Western media, who he said should pay more visits and have better comprehension of ground realities before churning out stories on the fast-changing continent.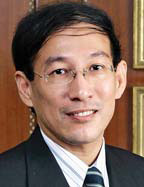 Pana Janviroj
says Western journalists need more reporting time in Asia. 
"If they come, they will see more themselves and they will have less distorted information," said Janviroj, who arrived in Beijing on Wednesday for an annual meeting of ANN, one of the world's most active newspaper alliances founded in 1999.
Before the board meeting on Friday, ANN, together with China Daily and Konrad-Adenauer-Stiftung, a German foundation, is organizing a forum, "Reacting to Climate Change: Vision, Action Plans and Media Involvement", on Thursday.
"I think senior editors from the West don't come to Asia as much as we from Asia visit Europe or North America," said Janviroj, also president of The Nation, a leading media group in Thailand.
Because they do not visit Asia often and resort to a stereotype that reporting on progress does not make for a good news story, the Western media's gatekeepers often use distorted and biased information.
"To report Asia in a more fair and balanced way, our Western colleagues should come and experience the fast-paced changes," Janviroj said.
The 21 leading newspapers of the news alliance have already raised Asia's profile by exchanging articles, especially comment pieces; publishing a bi-monthly magazine; and operating a website.
However, he said the efforts do not mean the editors are speaking in a single voice from Asia.
"As a fair assessment, we don't have a united, single Asian voice but pluralistic views," Janviroj said.
Maintaining this pluralism is vital, he said, because Asia is diverse and is made up of different cultures, levels of income, political backgrounds and world views.
"But this doesn't mean we cannot have a common view on some significant concerns challenging the world and Asia," he said.
He listed peace, climate change and corruption as pressing challenges to which the Asian media should have a common stand. The forum on climate change is a step in that direction, he said.
"Perhaps we have not debated these things enough," Janviroj said.
With the motto "We Know Asia Better," the networking of newspapers in Asia was first discussed informally by Asian editors who participated in the first Asian-German Editors' Forum organized by the Konrad Adenauer Stiftung in Manila.
Encouraged by the success of the forum, the editors decided that a more permanent professional and business relationship be pursued by their publications with the goal of improving the coverage of Asian affairs by Asian media.