Iran Wednesday successfully test- fired a satellite rocket and unveiled three new satellites and a satellite carrier, Iran's English-language satellite channel Press TV reported.
The report said the "Kavosh 3" (Explore 3) rocket carrying an "experimental capsule" has been successfully test-fired and will transfer telemetric data, live pictures and flight and environmental analysis data.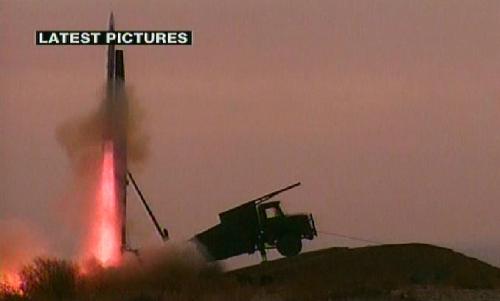 An image grab taken on February 3, 2010 from Iran's English-language official Press TV station shows the launching of the Kavoshgar 3 (Explorer) rocket from an undisclosed location. [Xinhua] 
Live video transmission and the mini-environmental lab will enable further studies on the biological capsule, which carries a rat, two turtles and worms, as it leaves earth's atmosphere and enters space, the Iranian Aerospace Organization (IAO) was quoted as saying.
Also on Wednesday, Iran unveiled three new satellites -- Tolou, Mesbah 2 and Navid -- which were designed and produced domestically, Press TV said.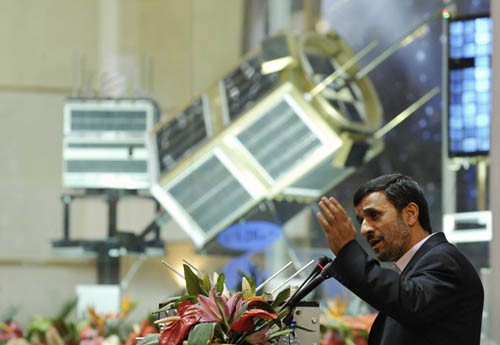 Iranian President Mahmoud Ahmadinejad speaks during a ceremony to introduce the domestically produced Simorq propulsion system, for rockets to carry satellites into space, during a ceremony in Tehran February 3, 2010. [Xinhua]
In the inauguration ceremony attended by Iranian President Mahmoud Ahmadinejad, the IAO also unveiled the country's first domestic satellite carrier engine, called Simorgh. The Mesbah 2 satellite, a low-orbit communications satellite, is currently under manufacture and no date has been set for the test- flight of the Mesbah 2 prototype, Press TV said.
Related readings:


 Iran says ready to send uranium abroad as UN wants


 Iran criticizes US military deployment in Gulf

 Iran's nuclear program "irreversible": official


 Israel: Slain Hamas man smuggled arms from Iran


 US beefs up defenses near Iran
Iranian Defense Minister Ahmad Vahidi has called the Tolou a "reconnaissance satellite," however, the purpose of the Navid satellite was not clear.
On Feb. 3, 2009, Iran sent its first home-built satellite Omid (Hope) into orbit by the Iranian-produced satellite carrier Safir 2.
Iranian officials said Iran has plans to put a "series of satellites" into space by 2010 to aid natural disaster management programs and improve telecommunications.