TOKYO: Japan's prime minister said Monday he may nix a key military deal with Washington on relocating US troops, after a local election in Okinawa showed that residents oppose any new Marine base in their region.
Residents of Nago elected a mayor who is staunchly against moving a base there from a larger city nearby -- plans which Washington considers fundamental to its troop realignment in the region. An agreement on the relocation of Futenma Marine air field was made in 2006 under the previous government that lost power last year.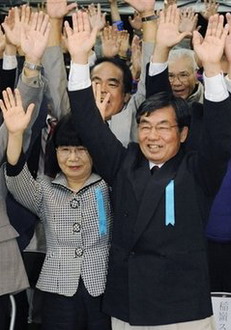 Anti-US base candidate Susumu Inamine, right, celebrates with his wife Ritsuko and supporters as he was virtually assured of his victory in a mayoral election of this small Okinawan city of Nago, on Sunday Jan. 24, 2010. [Agencies]
Prime Minister Yukio Hatoyama said the results of Sunday's election reflected the will of the people, and that Japan would completely re-examine its accord with the US.
"The country will start from scratch on this issue and take responsibility to reach a conclusion by the end of May," he told reporters.
Nago chose challenger Susumu Inamine -- who campaigned against any expansion of US military presence in the area -- over incumbent Yoshikazu Shimabukuro. Inamine won with 52.3 percent of the vote, according to the city's election office.
The city's mayor has little say in national policy, but with Japanese parliamentary elections coming in the summer, the results quickly reverberated throughout the country.
"It wasn't just Shimabukuro that was defeated in the election. The biggest loser was Japan's postwar military base strategy," the national Asahi daily said in a front-page editorial Monday.
The Obama administration has already expressed frustrations with Tokyo's delays in finalizing the relocation of the Futenma base -- now in the larger Okinawa city of Ginowan -- saying it is delaying the broader 2006 plan to reorganize the US military presence in Japan.
Related readings:


 Okinawa town elects mayor who opposes US base


 Long-festering US base issue resonates beyond Okinawa


 Ringing in the sounds of Okinawa


 Japan FM tours Okinawa over 'tough' US base plan


 US limits Okinawa troops to bases
Experts said the election results makes it nearly impossible for Hatoyama to move Futenma's facilities to Nago, as was called for in the agreement struck four years ago.
"He can't make a decision now that's going to make both the Americans and Okinawans happy," said Jeff Kingston, Temple University's director of Asian Studies in Tokyo.
Hatoyama could use the vote as political cover for rejecting Nago as the relocation site by saying, "'This is how democracy works,' but that's not going to play too well in Washington," Kingston said.
The planned relocation to Nago issue sparked intense protests and dominated debate between the two mayoral candidates. Defeated mayor Shimabukuro supported the base for the jobs and investment it would bring.
Under a security pact signed in 1960, US armed forces are allowed broad use of Japanese land and facilities. In return, the US is obliged to respond to attacks on Japan and protect the country under its nuclear umbrella.
More than half of some 47,000 American troops stationed in Japan are in Okinawa, where many residents complain about noise, pollution and crime linked to the bases.
Inamine, an independent, ran with the support of Hatoyama's ruling Democratic Party. His victory Sunday will make it increasingly difficult for the prime minister to resist pressure to shelve the deal.
After securing victory, Inamine celebrated with jubilant supporters gathered at his office.
"I fought this campaign vowing to resist the base," he said Sunday. "I intend to keep that promise as we move forward."