WASHINGTON: Lisa Stevens is a very busy lady these days - answering numerous phone calls, and replying to thousands of letters and emails.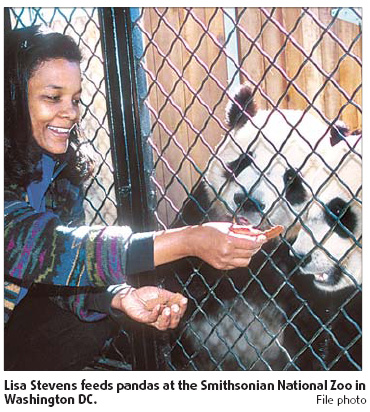 Not just that, she also has to console heartbroken children as well as adults.
Related readings:


 Panda's trip to China leaves big hole in US city


 Washingtonians express pride, hope for departing Chinese panda cub


 Panda Tai Shan celebrates third birthday

The reason: Tai Shan, a 4-year-old panda and the favorite of many Americans young and old, will soon leave the Smithsonian National Zoo in Washington DC for China.
It is Stevens' job, as the curator of pandas at the zoo, to inform emotional panda lovers that Tai Shan is ready to breed and will join the growing panda population in China early next year.
The mission is to conserve an already-endangered species, and Stevens has to make sure the Washingtonians understand that.
"Our goal is to keep just a pair in the zoo as ambassadors and to raise funds to support the conservation effort. We are part of the program and it's my job to remind people of this," Stevens says.
She has a tough job ahead. Stevens knows her words may not be enough for panda lovers, or "pandarazzi", as she calls them.
Tai Shan was born at the Smithsonian zoo and has become something of a mascot to Washingtonians, as he is featured on the smart cards used to access the city's subways.
Many had also watched Tai Shan's birth on the Internet through a webcam that continues to broadcast his life live thanks to volunteers working at the zoo.
Some of these "pandarazzi" visit Tai Shan regularly at the Fujifilm Giant Panda Habitat inside the zoo, and track his life on the Web several times a week.
In fact, a US soldier in Iraq told Stevens recently that watching Tai Shan online made the day for him and some of his colleagues. A cancer patient felt his life was moving forward whenever he watched Tai Shan.
Panda Unlimited, a club that claims thousands of fans worldwide, was founded soon after Tai Shan was born.
Some of its members visit the zoo several times a week to take photographs of Tai Shan and his parents, Mei Xiang and Tian Tian.
They have raised money and are actively promoting awareness of the species. "These people even give us a yell when they think what we do is not right," Stevens, who has spent the past 22 years being a panda caretaker and researcher, says.
In 1987, Stevens started taking care of Hsing Hsing and Ling Ling, the panda pair gifted by the Chinese government in 1972 following then US President Richard Nixon's historic visit to China.
Stevens, who had taken care of other bears for years, says she feels privileged working with pandas.
"Pandas are great to work with. They are laid-back and low-key," she says.
Over the years, Stevens has developed a close relationship with these gentle creatures, even while respecting zoo rules that do not permit playing with pandas or entering their enclosure.
"It's our duty to care for them, be attached to them and bring out their natural behavior," she says, adding the pandas respond enthusiastically to her voice and smell.
"I can have a very good relationship with them without treating them like pets," the "panda lady", as Stevens is widely known, says.
Stevens, 54, started working at the Washington zoo in 1978 right after graduating from the Michigan State University.
It was the international nature of the job and the prospect of travel that appealed to her when she first took up the panda job.
She says her saddest moment came when Hsing Hsing, aged 29, was euthanized in 1999 after severe kidney failure. It was seven years after the death of Ling Ling due to cardiac arrest, aged 23. A panda's life span is usually around 24 years.
Stevens said she and her colleagues were extremely nervous during Tai Shan's birth, since his siblings had all failed to survive.
"We were very nervous, especially in the first month (after Tai Shan was born). But as each day passed, we felt we could breathe a little easier," she recalls.
"We are so happy to have a healthy, strong and viable cub. It was magical," says Stevens, who, along with colleagues, has conducted extensive research into panda behavior over the past 22 years.
Stevens has also cooperated with Chinese scientists in research projects. She has traveled to China eight times, conducting workshops at the Beijing and Shanghai zoos as well as visiting the Wolong panda base in Sichuan province, which will soon be Tai Shan's new home.