SEOUL: The Hyundai chairwoman's trip to the Democratic People's Republic of Korea (DPRK) made no immediate headway in securing the release of an employee detained by Pyongyang, but she extended her trip Thursday for an additional day.
The extention fueled speculation that Hyundai Group Chairwoman Hyun Jung-eun may finally get a chance to meet with DPRK leader Kim Jong Il. It was not immediately clear whether Hyun could travel to the east coast city of Hamhung where Kim is believed to be staying or whether Kim could return to Pyongyang to meet her.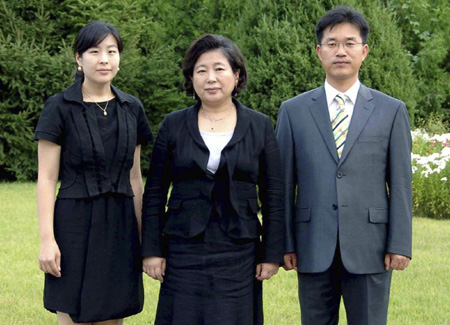 Hyundai Group chairwoman Hyun Jeong-eun (C) and her staff pose upon their arrival in Pyongyang in this picture taken August 10, 2009 and released on August 11, 2009 by the DPRK official news agency KCNA. [Agencies] 
A Republic of Korea's employee with Hyundai Asan -- Hyundai Group's DPRK business arm -- has been held in the DPRK since late March for allegedly denouncing Pyongyang's political system. He worked at a joint industrial zone near the border where factories run by the Republic of Korea (ROK)employ DPRK workers.
Related readings:


 DPRK nuke row: China urges diplomacy


 Report: DPRK will soon free Hyundai worker


 Hyundai boss in DPRK for held employee


 Hyundai boss to negotiate for employee in DPRK


 Clinton, 2 journalists depart DPRK for US
Hopes for the worker's release have mounted since last week, when Pyongyang freed two US journalists sentenced to 12 years of hard labor for entering the country illegally in March. It followed a surprise visit by former President Bill Clinton, who held talks with Kim.
Pyongyang is also holding four ROK fishermen whose boat was seized last month after straying accidentally into northern waters.
The Hyundai chairwoman left for the DPRK on Monday, saying she would seek the worker's release. She was scheduled to return Thursday but will now stay for another day, said Cho Kun-shik, president of Hyundai Asan.
Hyun and Kim last met in 2007, when she visited Pyongyang to discuss tour projects in the DPRK, and her current visit is also partly aimed at restarting those joint projects.
Hyundai has poured hundreds of millions of dollars into the industrial zone and a joint tourist project promoted by more liberal ROK governments in the past. But renewed tension between the rivals has seen a suspension in trips to the DPRK by ROK tourists, while the industrial park now only has a skeleton ROK staff.
The DPRK and the ROK technically remain at war since the 1950-53 Korean conflict ended in a cease-fire, not a peace treaty. After a period of warming ties, relations have deteriorated since conservative President Lee Myung-bak took office in the ROK last year advocating a tougher policy on Pyongyang.