Related readings:


 Officials: 9 dead, 50 wounded in Indonesian blasts


 Bombings at Indonesian luxury hotels, 6 dead


 Six killed in central Jakarta hotel bombings - police
JAKARTA: Near-simultaneous bomb blasts ripped through the JW Marriott and the Ritz-Carlton hotels in Jakarta's business district on Friday morning, killing 9 people and injuring 42 including foreigners and Indonesians, police said.
A car bomb had also exploded along a toll road in North Jakarta, police said. Indonesia's Metro TV said two people had been killed. No further details on that blast were available.
The bomb attacks, the first in several years, could severely dent investor confidence in Southeast Asia's biggest economy. The Indonesian government had made considerable progress in tackling security threats from militant Muslims in recent years, bringing a sense of greater political stability.
Militants from the regional Jemaah Islamiah organisation were blamed for numerous attacks between 2002-2005 in Indonesia, including bombings on the island of Bali in 2002 that killed 202 people. Many militants have since been arrested.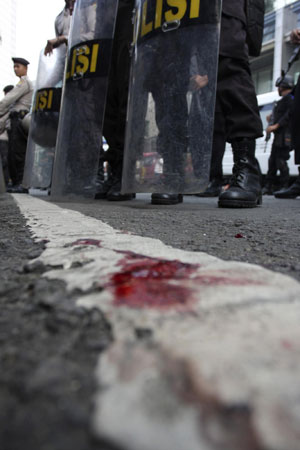 Police stand guard near a victim's bloodstain in front of the Ritz-Carlton hotel after an explosion in Jakarta July 17, 2009.[Agencies]


Kevin O'Rourke, Political Risk Analyst, Reformasi Weekly
"I think the attacks are devastating for the image of security that Indonesia has built up painstakingly over the past four years.
"The attack is particularly severe for investor confidence because it took place despite strenuous counter-terrorist efforts by the government and has affected the hotels that are seen to be among the most secure in Jakarta and also either killed or wounded numerous prominent expatriate businesspeople." O'Rourke said he suspected Jemaah Islamiah was responsible.
"It's an explosion in a hotel. Jemaah Islamiyah perpetrate explosions in hotels."
Wawan Purwanto, Analyst at NGO National Empowerment Board, Jakarta
"It is a high-tension period and it is likely to remain like that until October when the president is inaugurated.
"We already predicted this as we have seen some unknown movements after the election, like the incidents in Papua. So if something like this happens, it's not a surprise.
"We will not make any assumption (as to who is behind the attacks) before seeing hard evidence."
Prakriti Sofat, Economist at HSBC, Singapore
"After the elections going off so peacefully, the bomb blasts have come as a shock. We don't have all the details now but investors will be keeping a close eye on this one."
Joanna Tan, Economist, Forecast PTE, Singapore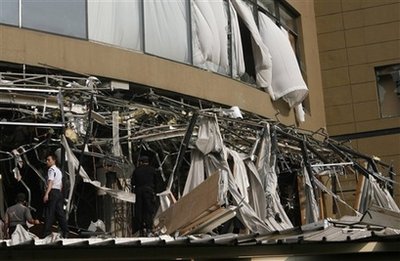 Police officers inspect the damage after an explosion went off at the Marriott hotel in Jakarta, Indonesia, Friday, July 17, 2009. Bombs exploded at the Ritz-Carlton and Marriott hotels in the Indonesian capital on Friday, ripping the facade off the Ritz, police said. [Agencies]


"I think investor confidence will definitely be shaken after this but ultimately, the positives from SBY continuing a second term and relatively good performance in the economy should keep investor confidence supported."