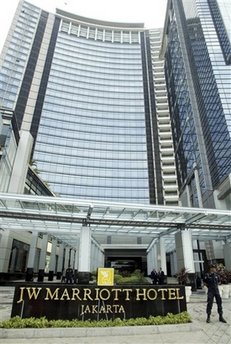 In this Monday, Sept. 8, 2003 file photo, security officers stand guard outside of JW Marriott Hotel at its reopening day in Jakarta, Indonesia. [Agencies] 
JAKARTA, Indonesia: Six people were killed and many more were wounded in nearly simultaneous bomb blasts at the JW Marriott and the Ritz-Carlton hotels in central Jakarta on Friday, Indonesian police said.
Jakarta police spokesman Chrysnanda Dwilaksana said all the dead were at the Marriott, which was badly damaged by a car bomb attack in 2003 that killed 12 people.
A Jakarta hospital official said at least 10 people had been brought in for treatment. Witnesses said foreigners were among those hurt.
There have not been any major bomb blasts in Indonesia for several years while this month's presidential elections passed off peacefully, underscoring the progress made by the world's most populous Muslim nation since the chaos and violence that surrounded the downfall of Suharto in the late 1990s.
"We know there are six victims, six who died and there are several others injured and we have evacuated them to hospital," Dwilaksana said.
The Indonesian rupiah fell 0.7 percent to 10,200 per dollar after the explosions, prompting state banks to sell dollars to support the currency, traders said.
Indonesian stocks opened more than 2 percent lower, although later regained some ground and were down less than 1 percent by 0300 GMT.
Witnesses at the scene told Indonesian Metro TV that the injured, including Indonesians and foreigners, were seen being taken away in ambulances.
"Some windows of the Ritz-Carlton building have been shattered, mostly on the lower section. I'm looking at it from my office," said Myra Junor, who works at a nearby building.
Windows at the Marriott were also shattered.