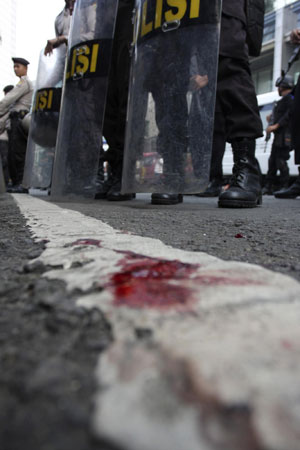 Police stand guard near a victim's bloodstain in front of the Ritz-Carlton hotel after an explosion in Jakarta July 17, 2009.[Agencies]


JAKARTA, Indonesia: A pair of powerful explosions at two luxury hotels killed nine and wounded at least 50 people in an upscale Jakarta neighborhood Friday morning, sending debris and glass flying onto the streets.
Anti-terror forces were at the scenes of both blasts, but did not yet want to speculate about the possibility of an attack by militants.
"There were bodies on the ground, one of them had no stomach," said a man who lives near the hotels and who arrived at the Marriott before emergency services. "It was terrible."
Alex Asmasubrata, who was jogging by the hotels, said he first heard a loud explosion at the Marriott. Five minutes later, a bomb followed at the Ritz.
The blasts were caused by "high explosives," Security Minister Widodo Adi Sucipto told reporters at the scene, without elaborating. He said they exploded two minutes apart.
He said a New Zealander was among those killed, and that thirteen other foreigners were among the injured.
Two US officials said one American is believed to have been injured but that has not yet been confirmed. The officials spoke on condition of anonymity because they were not authorized to discuss the situation publicly.
The police operational chief Arief Wahyunadi said the bombs were planted in the Ritz-Carlton's Air Langga restaurant and the basement of the Marriott, which was attacked in 2003. Twelve people died in that assault, which was blamed on Southeast Asian terror network Jemaah Islamiyah.
Related readings:


 Indonesia president pledges growth after election


 Strong quake rocks eastern Indonesia


 59 fishermen fly back home from Indonesia


 Indonesia told to release 75 Chinese fishermen


 Indonesia mine blast kills at least 9
There has been a massive crackdown by anti-terror officials since then, and it has been more than three years since a major terrorist attack in Indonesia.
The Manchester United football team was scheduled to stay at the Ritz on Saturday and Sunday nights for a friendly match against the Indonesian All Stars, the Indonesian Football association said.
Because of past attacks, most major hotels in Jakarta take security precautions, such as checking incoming vehicles and requiring visitors to pass through metal detectors. Still, international hotels make attractive targets, since the nature of their business requires them to be relatively open and accessible.