JAKARTA, Indonesia -- An explosion ripped through a coal mine in western Indonesia on Tuesday, killing at least nine people and burying 32 others who were feared dead, officials said.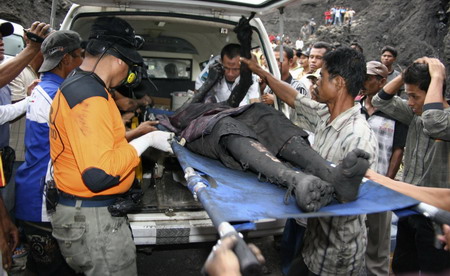 Rescue workers evacuate a body after an explosion in a coal mining area in Sawahlunto village in Indonesia's West Sumatra province June 16, 2009. [Agencies]
Dozens of rescuers tried to reach the trapped men, but rock slides and a mix of gas and coal debris forced them to resurface after four hours of digging, district police Chief Yasman Esha in West Sumatra province said by phone from the scene.
Related readings:


 61 illegal miners dead in SA mine


 Excessive explosives blamed for mine disaster


 Death toll rises to 30 in Chongqing mine accident


 10 killed in SW China coal mine gas blast


 Five trapped after gold mine flood in N China
"We fear the miners are dead by now," Esha said.
Four bodies were recovered soon after the morning blast at the 300-foot (100-meter) -deep mine in Sawahlunto regency on Sumatra island, he said.
Health Ministry Crisis Center chief Rustam Pakaya said 14 miners were rescued, but five with severe burns died later in a hospital. Two others were in critical condition, he said.
Police were trying to determine what caused the blast. A preliminary investigation said it was triggered by leaking methane gas.
The mine, owned by a local company, is 560 miles (900 kilometers) northwest of the capital, Jakarta.
Indonesia has some of the world's largest coal deposits and is a major coal exporter.