BEIJING/DETROIT - US Treasury Secretary Timothy Geithner pledged the Obama administration was committed to cutting its huge deficits as quickly as it can, but faced shelling out tens of billions more to support General Motors as it prepared to file for bankruptcy on Monday.
In the wake of the worst financial crisis since the 1930s, Washington has poured hundreds of billions of dollars into efforts to revive its economy, borrowing the money to do so by selling Treasury securities.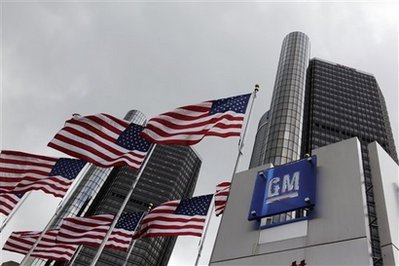 General Motors world headquarters is shown in Detroit, in this Tuesday, April 21, 2009 file photo. [Agencies]
China is the largest single purchaser of US Treasuries and has expressed some concern about the value of its US debt holdings as soaring US deficits drive interest rates up.
Geithner, aiming to persuade China that its US investments were safe, told reporters: "No one is going to be more concerned about future deficits than we are," while en route to Beijing for two days of meetings with top Chinese officials.
Washington has already pumped almost $20 billion into General Motors, but the company was still set to file for the country's largest ever industrial bankruptcy before markets open on Monday, an Obama administration official said late on Sunday.
Related readings:


 Geithner looks to sell safety of US bonds


 Geithner's China trip to focus on trade


 Geithner visit may focus on joint effort to beat recession


 Geithner aims for positive China tour


 Geithner says US financial system 'starting to heal'
US taxpayers will get a 60 percent stake in the once-mighty company for a total of $50 billion in aid, according to the official, who requested anonymity ahead of President Barack Obama's Monday remarks on GM.
"The government really has no desire to own equity stakes in companies any longer than is absolutely necessary and will actively seek to dispose its ownership interest as soon as it is practicable to do that." the official said.
Canada will loan GM $9.5 billion in return for about 12 percent equity. In exchange for concessions, a United Auto Workers retiree healthcare trust will own 17.5 percent equity and unsecured bondholders 10 percent. The union and debtholders will also get warrants to buy more of GM.
ECONOMIC HOPES BOOST STOCKS
While the turmoil caused by the collapse of the US home lending market continued to weigh on some companies, Geithner offered some cautiously optimistic comments on improving economic conditions.
"We are seeing more durable stability in the economy and the financial system is in substantially better shape," Geithner said.
"But we have a long way to go and we need to keep working in the United States and with the other major economies to restore conditions for a sustainable recovery," he said, offering strong backing for a bigger Chinese role in setting global economic policy.
Asian economic data highlighted the patchy and lacklustre nature of the recovery.
South Korea exports and imports in May both dropped more than expected, dampening growing hopes for an early recovery in Asia's fourth-largest economy.
Australian retail sales rose in April, but by less than expected, while the Chinese manufacturing sector lost some momentum in May, although it continued to expand for a third straight month.
Still, stock markets extended recent gains fuelled by expectations that the worst of the downturn had passed, with MSCI's index of world stocks climbing on Monday to its highest since November last year.
Japan's Nikkei average added 0.8 percent while stocks elsewhere in the Asia-Pacific region rose 1.2 percent.
The US dollar, hammered recently along with Treasuries by concerns about heavy US deficits, also rose.