Visiting US Treasury Secretary Timothy Geithner is expected to reassure China of the safety of its investments in the US and resist the temptation of trade protectionism - crucial to woo further Chinese lending to the world's largest borrower.
Geithner, who arrived in Beijing yesterday on his first trip as Treasury chief, is expected to meet with President Hu Jintao, Premier Wen Jiabao and Vice-Premier Wang Qishan, as well as deliver a speech at Peking University.
Observers say Geithner's top priority would be to persuade Chinese policymakers to continue the purchase of US Treasuries, vital for Barack Obama's administration to finance its stimulus plan and pull the US economy out of recession.
Related readings:


 Geithner's China trip to focus on trade


 Purchase of US Treasuries to continue


 Allure of US Treasuries set to fade


 China to keep buying US Treasuries: central banker
En route to Beijing, Geithner told reporters that the Obama administration was firmly committed to ratcheting down huge deficits as quickly as it can once economic recovery is assured, Reuters reported
"No one is going to be more concerned about future deficits than we are," he said.
However, Geithner could face a tough task reassuring his hosts that China's huge holdings of Treasury bonds would not lose value and the US dollar would remain stable.
China held $768 billion in Treasury securities as of March, making it the single largest holder of US government debt.
It is estimated about 70 percent of China's $2 trillion foreign exchange reserves are held in US dollar-denominated assets.
Yet, the US government's rising debt and the Federal Reserve's quantitative easing, which in effect means printing money, may dent Chinese investment in the US.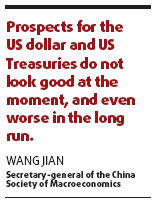 Yu Yongding, an economist and former member of the monetary policy committee of the China central bank, said: "I do not know whether there will be enough demand for new issuances and hence I am worried about the direction of the prices of US government securities."
Wang Jian, secretary-general of the China Society of Macroeconomics, agreed. "Prospects for the US dollar and US Treasuries do not look good at the moment, and even worse in the long run."
Wang said Beijing would expect the Obama administration to lift the ban on high-tech exports to China and lower barriers for Chinese investment in the US.
Jin Canrong, deputy dean of the school of international studies at Renmin University of China, said the Chinese government may also urge the US to resist trade protectionism, trying to stabilize demand in its largest export market.
"If the US government resists protectionism, it would not only help maintain demand for Chinese goods, but also help discourage other nations from taking that route," Jin said.
Li Daokui, an economics professor of Tsinghua University, said Geithner's visit is also expected to lay the groundwork for further cooperation in the next four years.