WASHINGTON: When US officials visit China, Chinese Internet forum writers often accuse them of engaging in "complaint diplomacy" but that is not something you should expect from US Treasury Secretary Timothy Geithner.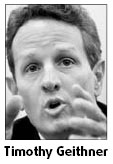 Geithner, who is about to begin his first official visit to the country, says "complaint diplomacy" - picking on the things you do not like about a country - is not in his vocabulary.
The Obama administration member will arrive in China on Monday to lay the groundwork for the first session of the China-US Strategic and Economic Dialogue (S&ED), which is set for Beijing in July.
The Chinese and US presidents agreed in London in April to establish the dialogue mechanism for developing bilateral relations.
Geithner said the countries have important work ahead.
Related readings:


 Geithner says US financial system 'starting to heal'


 Geithner visit may focus on joint effort to beat recession


 US Treasury's Geithner to visit China


 Geithner: Most of top 19 US banks have enough capital


 China contributes to int'l financial system: Geithner
"My general view is that we are two important economies in the world," he said, adding that the countries' policy choices and obligations are important to the world.
Chinese Vice-Premier Wang Qishan will co-chair the "economic track" with the US Treasury Secretary while State Councilor Dai Bingguo and US Secretary of State Hillary Clinton will chair the "strategic track".
During his visit, Geithner plans to discuss reforms to international financial institutions, bilateral cooperation in coping with the financial crisis and preparing for the S&ED.
"China and the US, in many ways, have been the most aggressive and comprehensive in putting in place the programs to help and respond to the global financial and economic crisis," Geithner said.
"On the global level, we should work for a more balanced and sustainable recovery."
He urged growth in domestic demand in countries including China and said the US needs to encourage more saving and less dependence on consumption.
As for the reforms to the international monetary system, he said the two countries want to build a better framework for cooperation to build stronger, effective, legitimate and responsive international financial institutions.
"In that context, we will be discussing China's role in the international institutions," Geithner said.
He added that both China and the US have common interest in ensuring that the international financial system functions well.
The US Treasury Secretary said China should have a full seat at the table in the international financial forum - sitting with other major economies for negotiations on financial reforms, as it did 60 years ago when the International Monetary Fund and General Agreement on Tariffs and Trade were built.
The visit will be Geithner's first to China since taking office on Jan 26. He is scheduled to meet with Chinese leaders and give a speech and take questions at Peking University. He said he does not speak Chinese, despite the fact that he studied at Peking University and Beijing Normal University for two summers in 1981 and 1982.
"I am going to update my Chinese counterparts on what is happening in the US, the policies we have already placed and the policies ahead," he added.