China expects new U.S. envoy to play "positive" role
BEIJING - China's Foreign Ministry said China hopes that the nomination of Utah Governor Jon Huntsman Jr. as the US ambassador to China will play a "positive" role in bilateral relations, local media reported Monday.
The Beijing-based Global Times said in its cover story Monday that China's Foreign Ministry had been diplomatically contacted regarding the nomination.
"The United States has sought opinions from the Chinese side through diplomatic channels and China is handling the issue according to relevant procedures and international conventions," the ministry said in a statement.
"We hope that a new appointee will play a positive role and work to the advantage of the development of bilateral relations in a new era and strengthen the friendship between the two peoples," the ministry said.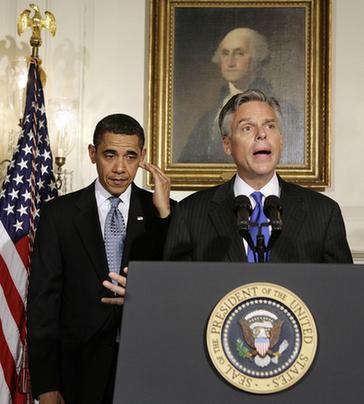 Utah Governor Jon Huntsman speaks next to US President Barack Obama after accepting a nomination to be the new United States Ambassador to China, at the Diplomatic Room of the White House in Washington May 16, 2009. [Agencies] 
Fluent in Chinese Mandarin (Putonghua) and having adopted a Chinese daughter, the newly nominated US ambassador to China looks to assume a crucial role of diplomat between two nations that are increasingly interdependent in economic matters and are often at odds over hot-button issues such as human rights and weapon sales to Taiwan.
But analysts warn that even with the strong Chinese cultural background that Huntsman possesses, it doesn't mean the US will be any less firm with China on contested and thorny issues, according to the Global Times.
Huntsman was tapped for the key foreign-policy role that has been vacant since Clark T. Randt Jr. retired from the position in January.
"The nomination of the new ambassador does good to both sides," Shi Yinhong, director of the American Studies Center at Renmin University of China, was quoted by the Global Times as saying.
Related readings:


 Huntsman: US-China relationship most important


 AP source: Obama to name Utah gov envoy to China


 At first sight, the eyes had it


 Obama names Utah governor as China envoy


 Obama taps potential rival for China envoy
Shi called Huntsman a powerful politician with rich policy-making experience related to China.
Huntsman, 49, son of a Utah multimillionaire and philanthropist, served as a White House staff assistant to President Reagan, ambassador to Singapore under President George H.W. Bush and deputy trade representative under President George W. Bush.
The governor has strong ties to Asia: He lived as a Mormon missionary in Taiwan. He and his wife, Mary Kaye, adopted two daughters, one from China and one from India. He also supports Utah's legislative push to offer Chinese language courses in school, which would be the first of its kind in the US.
But that does not mean thorny issues would be ignored.
Tao Wenzhao, an expert on Sino-U.S. relations at the American Institute of Chinese Academy of Social Sciences, told the Global Times that China must be vigilant, as the US is a collection of various interest groups, which means the arms sellers will continue to sell weapons to Taiwan and its defense department won't stop spreading the "China Threat Theory."
"That's why we can't be optimistic, though there will be a new ambassador with closer connections to China." he said