ATHENS, Georgia: A University of Georgia professor who police suspect in the fatal shootings of his ex-wife and two men outside a theatre near campus on Saturday disappeared in his Jeep after dropping his children off with a neighbor, authorities said.
A nationwide manhunt was on for 57-year-old George Zinkhan, whom neighbors and others described as a quiet, introverted and well-respected marketing professor at the university in Athens.
Related readings:


 3 injured in shooting at Hampton University in Va.


 Three killed in shooting in US state of Georgia


 2 dead, 1 hurt in US hospital shooting


 4 injured in school shooting in Athens
Members of a local theater group had gathered midday at the Athens Community Theatre when Zinkhan left his children in his car and fired at the group, said Police Captain Clarence Holeman. Killed were Zinkhan's ex-wife Marie Bruce, 47, Tom Tanner, 40, and Ben Teague, 63, Holeman said. Two others were injured by flying shrapnel.
The three victims were all involved with the Town & Gown Players Inc, a group that had planned an evening performance of Sherlock Holmes: The Final Adventure at the theater.
Zinkhan had argued with at least one of the victims prior to the shooting, Holeman said. After walking away, he returned with the guns and opened fire.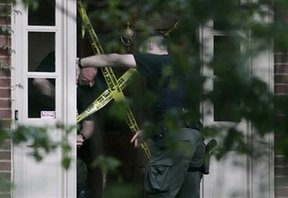 Athens-Clarke County Police check out the home of University of Georgia professor George Zinkhan who is suspected of killing three people in a shooting at a community theater Saturday, April 25, 2009, in Athens, Ga. [Agencies]
Zinkhan then drove his young son and daughter to a next-door neighbor's home in Bogart and dropped them off, only saying he needed them to watch them for about an hour because of an emergency.
Separately, three men were hospitalized after an overnight shooting in a dormitory at Hampton University in Virginia on Saturday, officials said.
Police say the suspect is an 18-year-old Richmond man who shot a 62-year-old Hampton man and a 43-year-old Hampton man and then turned the gun on himself. No students were injured.
School spokeswoman Yuri Rodgers says that police believe the shooter is a former student, and that one victim is the night manager of Harkness Hall.
AP