WASHINGTON -- Three people were killed on Saturday in a shooting incident in the southern US state of Georgia, and a professor from the University of Georgia (UGA) was believed to be the prime suspect.
The shooting took place at an off-campus gathering in Athens, Georgia, where the UGA is located. But authorities told local media that the campus is not on a lockdown because of the shooting.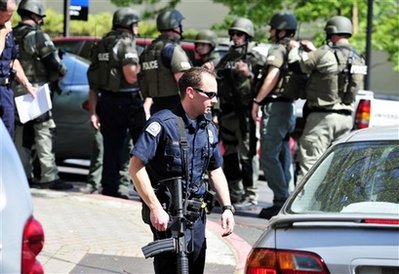 A University of Georgia police officer stops a car while SWAT team members behind Brooks Hall search for Professor George Zinkhan, who they believe shot and killed three people at a community theater picnic on Saturday April 25, 2009 in Athens, Ga. [Agencies] 
Sonny Wilson, Athens-Clarke County coroner, confirmed three people were dead, but couldn't provide identities.
The UGA website issued an alert which identifies George Zinkhan, a professor from the university, as the prime suspect of the shooting.
Related readings:


 2 dead, 1 hurt in US hospital shooting


 4 injured in school shooting in Athens


 Residents mourn victims killed in shooting rampage


 2 shooting tragedies on same day


 4 Chinese killed in New York shooting
"George Zinkhan is a white male in his mid-50s with a goatee or beard. ... He was last seen wearing a polo shirt, blue shorts, and a backpack. He was last thought to be in a red car in the area of Prince Avenue," the alert said.
Zinkhan is a professor in the department of marketing and distribution at the Terry College of Business, according to the university website.
The incident is being investigated by Athens-Clarke County police, with campus police assisting.